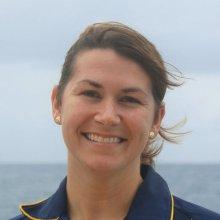 Jennifer McClain Counts
Science/Data
Biologist
US Geological Survey
Jennifer McClain-Counts is a biologist and laboratory manager for the Benthic Ecology Lab in U.S. Geological Survey Southeast Ecological Science Center. Jennie is interested in the use of stable isotopes to determine trophic relationships and works under Dr. Amanda Demopoulos to assess trophic and community structure of marine fauna in various habitats, such as wetlands, marine canyons and deep-sea corals.
Jennifer McClain-Counts graduated from University of North Carolina Wilmington in 2006 with a B.S. in marine biology and in 2010 with a M.S. in marine science.
"I sealed my fate in ocean exploration at the age of 12 when I became SCUBA certified and discovered a whole new world underwater. Every research cruise is a privilege that provides another small glimpse at a world too few have ever seen."
Expeditions
Jennifer participated in the following Ocean Exploration Trust expeditions: