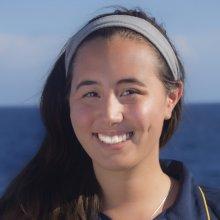 Jenn Hoets
Science/Data Intern
Undergraduate
Connecticut College
Jenn Hoets is an Undergraduate at Connecticut College and a student-scholar within the college's Goodwin-Niering Center for the Environment. She will be completing a senior honors thesis for her Center regarding the political and environmental implications of the ECOGIG expedition. Jenn is the field hockey goalie for Connecticut College DIII team and was named to the NESCAC All-Academic Team for the 2013 Fall season. 
Jenn Hoets is entering her senior year as an Undergraduate at Connecticut College. She will receive a degree in Government and Environmental Science in 2015.
"What does one do with a bright-eyed and green-faced intern who is stricken simultaneously with enthusiasm and seasickness?"
Expeditions
Jenn participated in the following Ocean Exploration Trust expeditions: