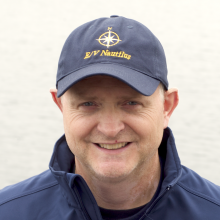 Jeff Brown
Nautilus Ambassador
High School Teacher
Lockport Township High School
Tell us about your work/research. What kinds of things do you do?
I teach Engineering Design, Computer Aided Design, Architecture and 3D Design & Animation, and I am one of the mentors for the FIRST Robotics FRC team at the high school. In the past, I have also taught Engineering Graphic Communications and Animation as an Adjunct Professor at the local junior college.
What sparked your initial interest in your career?
I wanted to be an engineer or architect, but after working/teaching younger kids as a counselor at Boy Scout camp I realized teaching these topics was more for me.  
Who influenced you or encouraged you the most?
My father and Technology/Industrial Education teachers influenced me the most. My father inspired me because he made a career change later in his career. He went from being a police officer to teaching police science at the local technical college. My Technology/Industrial Education teachers have stuck with me because of what they taught, how they taught and how much they really enjoyed the various technologies and students they taught.
What element of your work/study do you think is the most fascinating?
All the changing and new technology in the design field is one of the most fascinating elements of my vocation. I also really enjoy and find it fascinating when working with the students and watching them grow, mature and develop new knowledge and skills on a daily basis.
What other jobs led you to your current career?
Working as a teacher/counselor at scout camp, teaching middle Technology Education school for three years, and coaching travel and/or high school soccer for 28 years helped lead me to my current teaching career.
What are your degrees and certifications?
Bachelor of Science in Technology Education - University of Wisconsin-Stout
Masters of Arts in Education Instructional Strategies - Rockford University
Project Lead The Way - Introduction to Engineering Design
What are your hobbies?
Playing and/or coaching soccer, mountain biking, volunteering with Boy Scouts and church committees and woodwork/carpentry.
What advice would you give someone who wants to have a career like yours?
Spend as much time as you can working with others, especially those younger than you. Mentor them in clubs or Scouts. Tutor them. Become a camp counselor. Teach Sunday school or anything else you can think of to guide others. You obviously need to know your subject matter well, but if you can't relate the subject to your students it will be much more difficult.
How did you get involved with the Nautilus Exploration Program? How did you get on the ship?
I was proudly named the CITGO STEM Teacher of the Year for Lemont, Illinois this last year. In partnership with CITGO, OET invited the award recipients to serve as community ambassadors in the Nautilus Ambassador Program this year. 
Expeditions
Jeff participated in the following Ocean Exploration Trust expeditions: