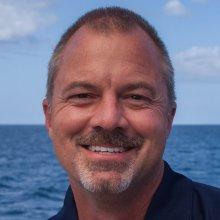 Jeff Birchler
Science Communication Fellow
Teacher
Hickory Hills Middle School
Jeff Birchler is a seventh and eighth grade science teacher at Hickory Hills Middle School located in Springfield, Missouri. Jeff has been teaching biology and chemistry to middle and high school students for 27 years. During that time he has played an integral role in developing innovative curriculum and courses including Zoo Science, Aquatic Studies, and Marine Biology. He has shared his innovative approaches in the classroom at both regional and national science conferences.
Jeff Birchler graduated from Southwest Missouri State University with a major in Biology and minor in Chemistry. In 2008 he received his Masters Degree in Education with an emphasis in Educational Technology from the University of Missouri.
"I am amazed and excited that I have this wonderful opportunity to be part of the Nautilus team whose mission is to explore the unknown depths of the ocean. How does it get any better - I get to share my experiences live with my students and inspire them to get out and explore their world!"
Expeditions
Jeff participated in the following Ocean Exploration Trust expeditions: