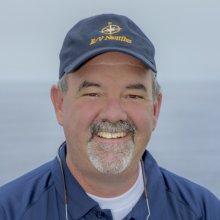 Jeff Ballard
Guest
Contract Administrator
Parker Aerospace
Tell us about your work/ research. What kinds of things do you do? 
My Master's thesis concerned naval operations in the Pacific between August 1942 to November 1943. Specifically, the evolution of torpedo attack doctrine, by the U.S. Navy, during operations in the Solomon Islands. I'm also an author and have written feature articles for World at War, Strategy & Tactics and Modern War magazines.
What sparked your initial interest in your career?
Whan I was 11 years-old, my father gave me his first edition copy of Samuel Eliot Morison's History of United States Naval Operations in World War II. By age 14 I had devoured all 14 volumes and a few years later I had read the Guadalcanal and Breaking the Bismarck Barrier volumes countless times. For the sheer drama of surface naval combat in the Pacific theater, there are few stories more exciting than the South Pacific campaigns of late 1942 and 1943, excepting maybe the Battle for Leyte Gulf (Philippines) in late 1944.
Who influenced you or encouraged you the most?
My father Richard, who taught me not to be afraid of big ideas, my grandfather Chet, whose life I strive to emulate and my personal heroes Mark Twain, 49er head coach Bill Walsh and Admiral Chester W. Nimitz.
What element of your work/ study do you think is the most fascinating?
The United States Navy began the Second World War with a professional chauvinism, which Secretary of War Henry Stimson, described as a religion where "Neptune was God, Mahan his prophet and the United States Navy the only true church." Despite the shocking reversals of early 1942, the US Navy and Marine Corps were able to address their deficiencies in very short order and supplant the Imperial Japanese Navy as the superior night fighting force with the encirclement of Rabaul in January 1944.
How did you get involved with the Nautilus Exploration Program?  
I am a guest of Dr. Ballard and eager to bring my curiosity to Nautilus.
What other jobs led you to your current career? 
Two decades of work in IT consulting and aerospace project management.
What are your degrees and certifications?
Bachelor of Arts in Social Science - Cal State Chico and a Masters in Military History - American Military University
What are your hobbies?
I love walking on the beach with my wife Carol, and dog, Taco Bell. I'm also a Cub Scout Leader and avid model rocketeer.
What advice would you give someone who wants to have a career like yours?
Stay in school! Although it may not seem like it, it's so much easier to do when you are 18, than when you are 50.