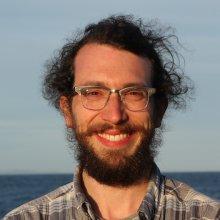 Jeb Dexter
Science/Data Team
Project Engineer
Ocean Networks Canada
Tell us about your work/research. What kinds of things do you do?
I do hands-on work with the scientific instruments that make up Ocean Networks Canada's marine observatories. I help deploy, recover, maintain, and repair sensors for temperature, ocean currents, salinity, organic matter, and more. I also build cables... So... Many... Cables.
What sparked your initial interest in your career?
As a kid, my interest in marine technology was inspired by undersea adventure novels and public television documentaries on the ocean.
Who influenced you or encouraged you the most?
In general, I have been fortunate to have enthusiastic teachers/professors and a supportive family.
What element of your work/study do you think is the most fascinating?
I consider myself fortunate to engage with others in the scientific community: scientists, engineers, communicators, and many others. It is totally engaging, learning about our colleagues' studies, the technology involved, and the personal experiences.
What other jobs led you to your current career?
Prior to working in marine technology, I was a technologist and engineer in the aerospace industry. I worked on electronic aircraft systems such as data recorders, engine control computers, and landing gear controllers.
What are your degrees and certifications?
Technologist Diploma - Humber College 2008, Bachelor of Engineering - University of Ontario Institute of Technology 2015
What are your hobbies?
Hiking, running, reading, vintage electronics repair, swing dancing, making nearly edible desserts.
What advice would you give to someone who wants to have a career like yours?
Go for it! Even if you're short on experience or are missing some of the qualifications, just go for it. At each stage of an application (resume, interview) convey your genuine enthusiasm. If you're truly interested in something, but the opportunities are not there, it never hurts to try a cold call. Get in touch with someone who is already working in the sector, and ask a few questions. You can do it!