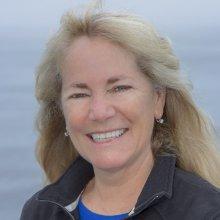 Jan Roletto
Science/Data Team
Research Coordinator
Greater Farallones National Marine Sanctuary
Tell us about your work/research. What kinds of things do you do?
My "day job" is the Research Coordinator for Greater Farallones National Marine Sanctuary (GFNMS), where I work to promote the sanctuary as a sentinel site for research and monitoring and encourage partnerships from academia, non-profit research institutions, as well as other federal and state marine and estuarine ecosystem management agencies. The government alone cannot sustain healthy oceans. It takes partnerships with other research institutions and agencies, stewardship and community involvement, in order to combat today's pressures on our marine ecosystems. At GFNMS, we have long-term monitoring projects that involve data collection and analyses conducted by students and citizen-scientists. I believe that a strong-citizen science program not only provides information for management, but also promotes stewardship, and thus increases protection of our oceans.
What sparked your initial interest in your career?
My mom and I would watch the Apollo space launches and moon landings together and that sparked my interest in science, investigation, and solving wildlife mysteries through exploration and analysis. I always loved the connection I felt when studying the behavior of captive and free-roaming wildlife. Watching wild animals interact with as little interruption as possible, allowed me to peek into their world.
Who influenced you or encouraged you the most?
My college wildlife studies and ethology professor, Hal Markowitz, had the greatest influence on my career path. I started college at the age of 17, thinking that I would become a ceramicist because I was good at making pottery. But when I realized that I needed a business degree to effectively sell my creations, I knew that pottery was always going to be a hobby. That's when I met Hal. He guided me through both my undergraduate and graduate degrees. I enrolled in several human and wildlife behavior courses and began studying wild pinnipeds (seals and sea lions) and their behavior, communication, physiology, and health. I was hooked on science because it's like figuring out a puzzle; all of the pieces are there but you have to look for the pieces, often from different vantage points.
What element of your work/study do you think is the most fascinating?
Every time I provide new information to solve a management issue (for example how to reduce wildlife disturbance, or the best way to restore habitat after an oil spill), I am rejuvenated in my work. Some of my work relates to developing new regulations that will increase the chances of a species or habitat to adapt to climate change, and my research often provides the pieces of the ecosystem puzzle. By mapping and quantifying deep-sea corals and sponges we can identify areas of the ocean floor that needs additional protection from ocean acidification, pollutants, and crushing from bottom contact fishing gear.
What other jobs led you to your current career?
I've had many different types of jobs: fast food cook, school bus driver, janitor, film developer, and even a calf sitter. My career in marine biology started while I was still in school and volunteered at The Marine Mammal Center. After volunteering there for two-days a week, they employed me as their biologist, curator, and rescue coordinator. There I trained and supervised 100's of volunteers in the safe and humane capture and handling of marine mammals while studying wildlife health, anatomy and diseases.
What are your degrees and certifications?
Bachelor of Arts and Master of Arts in Marine Biology
Associate of Science in Administration of Justice
What are your hobbies?
I enjoy skiing, SCUBA diving, cycling, photography, and making wine with my husband.  
What advice would you give to someone who wants to have a career like yours?
Learn the tools of the trade like GIS, biometry, database programming, and grant writing. Learn to love to write and communicate scientific findings to the general public. It's a competitive field, so be ready to volunteer and work as an intern. Volunteer to gain experience working in the field, as well as working in the office to process and analyze the data collected in the field. For every hour you work in the field about another four to five hours of work is needed to prepare for the fieldwork and afterward to analyze, interpret and present your data.  
How did you get involved in the Nautilus Exploration Program? How did you get on the ship?
I work for NOAA, through the National Ocean Service, Office of National Marine Sanctuaries. This will be my third cruise on board E/V Nautilus. Together we have explored shipwrecks, deep canyons, found amazing coral and sponge habitats and discovered new species. I am thrilled and very fortunate to be a co-Lead Scientist on this cruise.