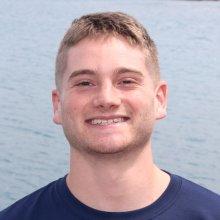 Jake Bonney
ROV Engineering Intern
Incoming Graduate Student
University of Rhode Island
Tell us about your work/research. What kinds of things do you do?
I am a recent graduate of the Ocean Engineering program at the University of Rhode Island. I am continuing my education at URI to pursue a masters in Ocean Engineering and I am starting my graduate studies in the fall of 2019. My undergraduate studies focused on a number of projects in passive acoustics and marine mammal monitoring in and around Narragansett Bay. This past semester my capstone senior design group deployed two whale monitoring buoys with the help of the Mooring Operations and Engineering team at Woods Hole. I also am working with the RI Department of Environmental Management to track tagged Atlantic Sturgeon in Rhode Island waters by building, deploying, and monitoring moorings with acoustic receivers. The Ocean Engineering Program at URI has provided me with a wide range of experience in areas such as electronics and software, mechanical engineering, coastal engineering, acoustics, and ocean instrumentation. Working with ROVs and in the field of ocean exploration has always been a dream of mine and I'm hoping to incorporate this experience into my graduate studies and eventually my career.
What sparked your initial interest in your career?
Growing up in Rhode Island I have had the opportunity to spend almost my entire life right next to the Atlantic coastline. Some of my most vivid memories from my childhood are fishing for blues (bluefish) or digging for quahogs, exploring and camping on the islands of Narragansett Bay, or examining the devastating effects of the hurricanes. I feel as though every day around the ocean is a new and exciting day because there is so much to learn and discover. This attraction to the ocean is what led me to URI to study Ocean Engineering. 
Who influenced you or encouraged you the most?
My dad, who works as a Naval Architect, brought me aboard the RV Hugh R. Sharp during its initial launch when I was 9 years old. I was fascinated with the ship and the research it was doing and had watched my dad work on designing the vessel over the course of my childhood.
What element of your work/study do you think is the most fascinating?
The most fascinating thing I have experienced lately is deploying whale monitoring buoys off of the Block Island wind farm and within minutes detecting whales, dolphins, and other noises from the ocean environment. I thought it was incredible that these mammals are just miles offshore from where I live. Sometimes I think people forget there is an entire world of life below the surface of the ocean, most of which we have yet to discover.
What other jobs led you to your current career?
I have been working in various jobs since I was 14 years old. In high school, I was a lifeguard and a landscaper along with doing odd jobs to make money on the side. Once I was in college I held various positions over summer and winter breaks. I worked in construction for a summer and as an engineering intern for a water department during another summer. Both of these positions provided hands-on experience in construction, using various equipment and tech. During my time at school, I held an IT position on the URI campus which allowed me to assist professors in their research and learn different software and design programs. Just recently I have begun working as a paid research assistant for an acoustics professor in the ocean engineering department.
What are your degrees and certifications?
Bachelor of Science in Ocean Engineering - University of Rhode Island spring of 2019
What are your hobbies?
I am an avid sports fan (Go Patriots, Celtics, Red Sox) and I enjoy playing pick-up basketball or other sports whenever I get the chance. I also work out at the gym 4-5 times a week and like to stay physically active. When the weather is right I love to get out on the water and go fishing, clamming, water ski, or just relax on the beach. I also recently got my scuba certification and I am trying to dive more often.
How did you get involved with the Nautilus Exploration Program?
I applied for the SEIP ROV Engineering Intern position after hearing about the program at my college, URI, in the Inner Space Center. 
What advice would you give someone who wants to have a career like yours?
Never shy away from trying something new or reaching out to people you don't know. You never know until you try and you should not be embarrassed to ask a question. Somebody once told me that the questions you think are dumb are more often than not the most important questions. Fields like engineering can be daunting and challenging at times, however, you learn the most when you challenge yourself to take on difficult tasks.