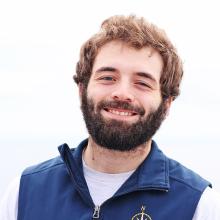 Jacob Ottaviani
Video Engineer / Documentarian
Assistant Video Editor
Ocean Exploration Trust
Tell us about your work/research. What kinds of things do you do?
As the Assistant Video Editor, I do a lot of the rough shaping of the videos. I start the creative process like, "look over the footage from the most recent ROV dive and pick out all the best shots of coral" and then it's up to me to decide which shots make the cut and which don't. Additionally, I have to keep an eye and ear out for any particularly engaging, interesting, or funny pieces of audio that might warrant their own highlight video. As part of the larger education & outreach team, we shape the expedition stories from Nautilus for our many platforms and audiences. Every bit of footage we get back from the ship is important in its own right, but it might be difficult to hold a 9-year-old's attention after the 6th hour of the sedimented seafloor. So that's where we come in to help out a spotlight on the most intriguing parts of the Nautilus' discoveries.
What sparked your initial interest in your career?
My initial interest in video editing was sparked by a single High School class, Video Production 1 which was taught by Mr. Madison. After that, it was off to the races, as I bought my first Macbook and editing software and started editing whatever footage I could get my hands on. Since then it's been non-stop media production, as I both studied it in college and worked for the campus TV and Radio stations.
Who influenced you or encouraged you the most?
There have been plenty of teachers and other role models that have inspired and encouraged me throughout my journey. But none of them could ever top my mom, no matter what I've done she has always supported me 100%.
What element of your work/study do you think is the most fascinating?
The most fascinating thing about my work is my ability to shape how undersea exploration is perceived by the Nautilus Live audience.
What other jobs led you to your current career?
As a recent college grad, I've only had a single "industry job" prior to joining the OET team. I was the Production Coordinator for the Rhode Island Youth Mental Health Webinar Series with Rhode Island Student Assistance Services.
What are your degrees and certifications?
Bachelor of Arts in Media Communication and Digital Media Production -- Rhode Island College 2021
What are your hobbies?
I have a very wide array of hobbies outside of my work. I train in Brazilian Jiu Jitsu and I enjoy working out, but I also love spending a day cooking and baking. When I'm just looking to relax or wind down from a long day, I really enjoy either reading or playing video games for a while. When I'm feeling social. one of my favorite things to do with my friends is to play Dungeons and Dragons, so when I say a wide array of hobbies I definitely mean it!
How did you get involved with the Ocean Exploration Trust?
My path to working at OET seems like it has really come full circle. Growing up in southern Rhode Island I was obsessed with the ocean and becoming an oceanographer in the footsteps of Dr. Ballard. However, when I was in High School a single video editing class derailed those plans as I immediately knew that was what I wanted to do. So I went to Rhode Island College where I graduated with a degree in Media Communications and Digital Media Production. When I saw a job listing to work as an editor for the Ocean Exploration Trust I just knew that I needed to apply and do whatever I could to get the position because it so perfectly combined everything I have ever wanted to pursue professionally.
What advice would you give to someone who wants to have a career like yours?
The best advice I can give to an aspiring video editor is to just keep editing and just keep learning. Every new technique, trick, and piece of software you learn is just one more thing that will make you stand out.
Expeditions
Jacob participated in the following Ocean Exploration Trust expeditions: