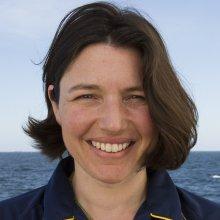 Iliana Baums
Science/Data
Associate Professor
The Pennsylvania State University
Iliana Baums studies the molecular evolution and ecology of corals and their symbionts.
Baums in 2004 received the Smith Prize, awarded for the most original piece of research at the Rosenstiel School of Marine & Atmospheric Science at the University of Miami. Prior to joining Penn State in August, 2006, as an assistant professor of biology, Baums was an assistant researcher to Dr. Rob Toonen at the University of Hawaii since 2005. Prior to that, she was a postdoctoral researcher to Dr. Jack Fell at the University of Miami from 2004 to 2005. She earned her doctorate degree at the University of Miami in 2003 and her Diplom in marine biology from the University of Bremen in Germany in 2000. Baums is now an associate Professor at PSU.
"The Deepwater Horizon Oil Spill was one of the greatest environmental disasters in history. While sailing on the Nautilus we will continue our efforts to understand its impacts on the deep-water coral populations." 
Expeditions
Iliana participated in the following Ocean Exploration Trust expeditions: