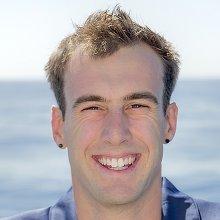 Ian Rock
Video Intern
Undergraduate
Duke University
Ian Rock has worked in various educational positions, teaching aspiring young scientists in a way that helps them discover the joys of scientific exploration. He has a strong background in educational multimedia storytelling, and specializes in photography and filmmaking. Ian was also on the Varsity Track and Field team at Duke University and was ACC champion in the Heptathlon. 
Ian Rock is a recent graduate from Duke University with a major in Earth and Ocean Sciences and a minor in Biology. He also received a certificate in Marine Conservation and Leadership
"I can't wait to set sail on the Nautilus! It is a once in a lifetime chance to explore the unexplored, paired with the unique opportunity to share our adventures with so many people, on and offshore." 
Expeditions
Ian participated in the following Ocean Exploration Trust expeditions: