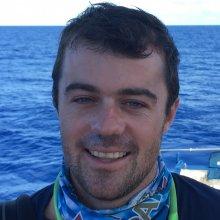 Ian Moffitt
Science/Data Team
Marine Biological Technician
National Park of American Samoa
Tell us about your work/research. What kinds of things do you do?
I identify, size, and count marine reef fish using SCUBA, conduct marine and stream water quality sampling, and assist in the documentation of benthic data as part of a long term monitoring program conducted by the National Park of American Samoa. I'm interested in what drives fish biomass and biodiversity changes in nearshore coastal ecosystems and working with local communities to preserve these special places for future generations to enjoy.
What sparked your initial interest in your career?
I decided to study marine biology when I was a senior in high school after going tide pooling with an older friend who was currently studying marine biology at UC Santa Cruz. I had never paid much attention to the tide pools themselves and was always more interested in the waves to be surfed just offshore. However, as my friend pointed out to me the beauty and stunning density of life living in such a confined area, a passion was kindled in me that never extinguished. Since that day my focus has shifted from temperate to tropical marine ecosystems, but the California inter-tidal will always hold a special place in my heart. I was just completely hooked from that day on.
Who influenced you or encouraged you the most?
I've been influenced and encouraged by so many people that its hard to pick just one.
What element of your work/study do you think is the most fascinating?
Watching ecosystems change over time has always been fascinating for me. I've been conducting monitoring surveys in American Samoa for almost 6 years now, and it has been very interesting to see how certain ecosystems have changed, while others haven't. Some will change and then revert back to their former state. Looking at what drives these changes and adapting pro-active management strategies to address areas of concern gets me out of bed in the morning.
What other jobs led you to your current career?
I interned, volunteered and worked with many different organizations and labs throughout college, that together led me to my current career. I was a docent guide, aquarist, electrofishing assistant, deckhand, technician for a variety of kelp forest projects, volunteer diver for Monterey Bay National Marine Sanctuary, volunteer diver for various graduate students, and assistant in a chemistry lab. I'm very grateful for all these opportunities. I never thought I would end up in American Samoa, but I'm so glad I did. Building connections in the relatively small world of marine biology is what ultimately got me out here.
What are your degrees and certifications?
Bachelor of Science in Marine Biology- University of California Santa Cruz
Bachelor of Science in Molecular Biology- University of California Santa Cruz
Motorized Operator Certification Course Instructor
Wilderness First Responder
What are your hobbies?
Surfing, biking, guitar, SCUBA diving, free diving, body surfing, hiking, sailing, traveling to new places, and hanging out with friends. After a long day at work, I definitely enjoy watching some Netflix!
What advice would you give to someone who wants to have a career like yours?
Get as much experience as you can. Volunteer and internship positions are a great way to get your start in this field. Education is important, but so is experience. Sometimes it can be tough to get both if you don't do some volunteering along the way. Don't be afraid to test your boundaries. Finding out what you don't like it just as important as finding out what you love. Don't give up.
How did you get involved with the Nautilus Exploration Program? How did you get on the ship?
I was invited by the lead scientist at the National Marine Sanctuary of American Samoa to participate in this exploration of the deeper areas of our protected water.