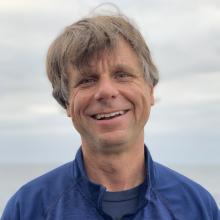 Ian Kulin
Science/Data team
Director of Observatory Physical Operations
Ocean Networks Canada, University of Victoria
Tell us about your work/research. What kinds of things do you do?
I lead the Observatory Physical Operations Team at the University of Victoria's Ocean Networks Canada. We develop, install, and maintain a plethora of instruments and sensors that monitor the west and east coasts of Canada and the Arctic. These continuously deliver data in real-time for scientific research that helps communities, governments and industry make informed decisions about our future. Using cabled observatories, remote control systems and interactive sensors, and big data management ONC enables evidence-based decision-making on ocean management, disaster mitigation, and environmental protection.
What sparked your initial interest in your career?
I come from a long line of engineers and scientists going back generations so I was destined to become an engineer myself. Growing up, my father was a Chief Engineer on multiple Navy ships so at an early age I was exposed to the oceans and was lucky enough to sail with him as a Navy dependant. I have always been drawn to water and sailing on the high seas is an addictive experience. My career path has been an interesting one and has allowed me to work in multiple countries on four continents. Travel and the oceans are a great mix.
Who influenced you or encouraged you the most?
My fathers only sister, Eleanor, was raised in a small home in Montreal with five brothers and as such has never backed down from anything in her life. She took me under her wing early in my life and always taught me to be independent, to learn and to think. New experiences and travel were her trademarks and I was lucky enough to participate in some of those events.
What element of your work/study do you think is the most fascinating?
We have some great people at ONC and when they all get together and work as a team the results are highly rewarding. I excel when those around me excel and we are all focused on the end result. Getting there is half the fun especially when we all work together.
What other jobs led you to your current career?
I working my way through school in a variety of ways and ended up as a ferry Captain in Halifax, Nova Scotia while in University. That opened doors at the Department of Fisheries and Oceans, the Geological Survey of Canada and Bedford Institute of Oceanography as a student. I graduated and went to work for Schlumberger, an oil service company, in various countries around the world. I enjoyed the challenges and experiences and saw places and met people that solidified my outlook on life. Upon returning to North America work specialized in Science Museums and Imax Theatres in construction projects and Operational logistics. That eventually brought me back to working at the GSO-URI and now ONC.
What are your degrees and certifications?
Bachelor of Engineering (Civil)
Registered Professional Engineer (two different jurisdictions)
LEEDS Accredited Professional
Private Pilot
Radio Operator
Ships Master (Limited)
Small Vessel Operators Proficiency
Proficiency in Fast Rescue Boats
Advanced Open Water Diver
Standards of Training Certification and Watch-keeping for Seafarers
Basic Life Support
Marine First Aid
Marine Emergency Duties (MED A1+B2+C)
Confined Space Rescue
Hazardous Materials Technician
What are your hobbies?
Running, biking, and swimming. I will run my 18th Boston Marathon in October, am an Ironman Triathlon competitor, and try to stay busy with any sort of participatory sport. I am not a good spectator. Love to cook, my chocolate chip cookies are known well by cable ship officers and others and Cakebread is my go-to at any meal.
What advice would you give someone who wants to have a career like yours?
Follow your dreams and never let anyone tell you it's not possible. Rolling stones never gather moss, change is great, and always look to improve yourself and your work.
How did you get involved with the Ocean Exploration Trust?
I started working at the Graduate School of Oceanography at the University of Rhode Island back in 2008 as an Engineer working for both the University and the Ocean Exploration Trust (OET). The E/V Nautilus was purchased that same year and I became involved in many of the renovations, upgrades and improvements are done on the vessel over the next five years. When I moved to Victoria in 2012 I continued to also work at OET but in my new role at ONC, we started the partnership of Nautilus working with us on our annual maintenance expeditions.
Expeditions
Ian participated in the following Ocean Exploration Trust expeditions: