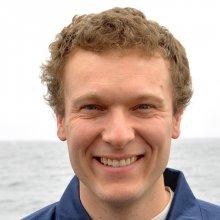 Ian Giraudy
Science/Data Team
Electronics Engineering Co-op
Ocean Networks Canada
Tell us about your work/ research. What kinds of things do you do? 
I specialize in working with electronics involved in data acquisition for Ocean Networks Canada's marine operations team.
What sparked your initial interest in your career?
I started in the oil and gas industry as a wireline field engineer and have enjoyed taking measurements from remote sensors ever since.
What element of your work/ study do you think is the most fascinating?
When asked who has influenced me the most, I have to say I am influenced most by the engineers I work with who enjoy their field of profession and have a fundamental interest solving technical challenges. 
How did you get involved with the Nautilus Exploration Program?  
I work with Ocean Networks Canada- an OET partner.
What other jobs led you to your current career? 
The most fascinating part of my work is reading valid sensor data from remote locations. Even though I am currently involved in the electronics for collecting data, previous jobs have helped guide me here. My work as a wireline field engineer has significantly influenced my current career. 
What are your degrees and certifications?
My current degrees are B.ASc - Civil Engineering - Queens University - Kingston, Ontario - 2009; Electronics & Computer Engineering Technology Diploma - Camosun College - Victoria, BC - Current.
What are your hobbies?
My hobbies vary, but my favorite ones are sailing and building electronic circuits. 
What advice would you give someone who wants to have a career like yours?  
My advice I would give to someone interested in my career is if you want to get into electronics, learn how everything around you works. Search books, online and take things apart. Almost, everything runs on electricity and requires some sort of circuit to work.
Expeditions
Ian participated in the following Ocean Exploration Trust expeditions: