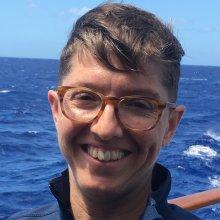 Holly Richards
Communications
Communications and Outreach Specialist
U.S. Fish and Wildlife Service
Tell us about your work/research. What kind of things do you do?
I specialize in using digital platforms to share science, inspire new audiences, and help transport the public to remote or inaccessible places. For the past several years, I've been working for the U. S. Fish and Wildlife Service based out of Honolulu. Across the Pacific Ocean, the USFWS protects over 500 threatened or endangered species and manages four Marine National Monuments and 22 National Wildlife Refuges. Because most of those species and places are far from the public imagination and nearly impossible to reach, we work hard to find a new and engaging way to share them with the public and instill a passion for conservation in new generations of people. Over the years, I've been inspired by the work done by the E/V Nautilus and I'm excited to work with them to help share the story of the Pacific Remote Islands Marine National Monument with people around the world.  
What sparked your initial interest in your career?
In a lot of ways, I discovered my career by accident. I grew up enjoying nature but didn't know much about public lands. On a whim, I took an internship at White Sands National Monument and fell in love. I discovered that I loved spending time in remote and wild places, and even better, I learned that I loved sharing those places with people from all over the world. After that first short internship, I was hooked, and I've never looked back! 
Who influenced you or encouraged you the most?
Over the years I've been incredibly inspired by all of the scientists, park rangers, and public lands managers I've met who have dedicated their lives to exploring and protecting our natural world. Their passion inspires my passion. 
What element of your work/study do you think is the most fascinating?
The best part of my job is sitting down with scientists and researchers and hearing the passion and enthusiasm they have for their subject matter. I love the challenge of constantly learning new things, and helping translate some of that passion for the public. 
What other jobs led you to your current career?
Before coming to Hawaii and the Pacific Islands, I spent a decade working at National Parks in the southwest and pacific northwest. During my time as a Park Ranger, I ran education and outreach programs and that's where I first began exploring the potential for using digital platforms to make remote places accessible to larger audiences.
What are your degrees and certifications?
I have a BA in English from Clemson University and an MA in Rhetoric, Writing, and Digital Media from the University of Northern Arizona. 
What are your hobbies?
I love reading, writing, painting, and walking in pretty places. 
How did you get involved with the Nautilus Exploration Program?
My agency, the U.S. Fish and Wildlife Service, is charged with protecting and managing the Pacific Remote Islands Marine National Monument, one of the largest protected marine areas on the planet. This year the Nautilus is exploring and mapping areas around several of the remote atolls and islands within the monument. My role on the ship is to help share the story of how those remote islands and the deep sea surrounding them are connected, and how we are all impacted by the health of these special places. 
What advice would you give someone who wants to have a career like yours?
Good communications require understanding not only your subject matter but also your audience. So learning a lot about both is important. Whether you choose to get your degree in science or communications, be sure to take lots of classes in both. Although my degree was in communications, I took as many science classes as I could. Internships and volunteering are great ways to get your foot in the door. 
Expeditions
Holly participated in the following Ocean Exploration Trust expeditions: