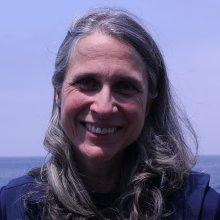 Helen Fox
Science/Data Team
Senior Director, Our Changing Planet Grants Program
National Geographic Society
Tell us about your work / research. What kinds of things do you do?
As the Senior Director of "Our Changing Planet" in the Grants Program at the National Geographic Society, I provide strategic direction on a portfolio that supports innovative leaders in research, conservation, technology, education, and communication. We seek a deeper understanding of Earth and Ocean systems, as well as practical solutions for conserving large natural spaces on land and sea in order to promote long-term sustainability. 
What sparked your initial interest in your career?
I fell in love with coral reef ecosystems in Australia in a gap year before college and studied them further at the School for Field Studies in South Caicos while in undergrad. For my PhD, I investigated coral reef recovery and rehabilitation from blast fishing and did a postdoc on marine protected areas at the Hawaii Institute of Marine Biology. Now, my ecological and interdisciplinary work draws on my strengths in facilitating collaboration, working at the boundary of science and conservation, and managing teams.  
Who influenced you or encouraged you the most?
My nature-loving parents and great teachers at Swarthmore College.
What element of your work / study do you think is the most fascinating?
I am motivated by wanting to make a difference in trying to save coral reefs and other important yet threatened ecosystems through better science/data sharing/collaboration across partners, and through developing long-term science capacity in developing countries. I've enjoyed various amazing dives in Indonesia, and a definite highlight of my career was living underwater for 9 days in the Aquarius habitat.
What other jobs led you to your current career?
I was at WWF-US for more than a decade; as the Director of Marine Science, I provided scientific and technical leadership and support, with a particular focus on the Coral Triangle and the Bird's Head and Sunda Banda Seascapes of Indonesia. I was the Senior Director of Research and Monitoring at Rare, leading ongoing development of their monitoring and evaluation work, with a focus on the Fish Forever program. I was the PI of a SESYNC working group examining links between marine protected areas (MPAs), ecological impacts, sustainable fishing, and human well-being in order to learn how to design MPAs to deliver benefits to people as well as biodiversity. I also spent a year working as an independent consultant.
What are your degrees and certifications?
B.A. in Biology -- Swarthmore College 1994
Ph.D. in Integrative Biology -- UC Berkeley 2002
NAUI SCUBA Instructor
First Aid & CPR certified
What are your hobbies?
I enjoy spending my scant free time with friends and family, reading, exercising, and turning the yard into a wildlife-friendly habitat. 
What advice would you give to someone who wants to have a career like yours?
I think this quote by Frederick Buechner sums it up well:
"Vocation is the place where our deep gladness meets the world's deep need."