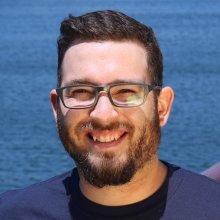 Hector Martinez
Nautilus Ambassador
Middle School Teacher
Olle Middle School
Tell us about your work / research. What kinds of things do you do?
I work with 8th-grade students in my science class. We cover general science including Matter & Energy, Force & Motion, Earth & Space, and Life science. I like to incorporate lots of labs and student exploration in each unit. I find that students retain more information when they are involved in the activities rather than just writing and listening. Before a new unit, I like to give my students a chance to explore the subject with a lab or some type of experiment. This works as a great reference point when moving on with the lesson.
What sparked your initial interest in your career?
I started my college career in Marine Biology but later switched my major to Marketing. I graduated with a marketing degree but found I was not completely satisfied in the advertising world. I continued to find myself drawn back to science so I decided to make a switch and return to what I enjoyed the most. I started teaching science and am really having a great time.
Who influenced you or encouraged you the most?
I have been influenced the most by my father, who always told me to do what I love and not follow the money.
What element of your work / study do you think is the most fascinating?
The most fascinating thing I get to enjoy every school year is the growth of my students. It is great to help them discover a love and passion for science.
What other jobs led you to your current career?
My initial college career is what led me to my current position. I have always enjoyed science, but without a degree in science, teaching was my best chance to get back in the field.
What are your degrees and certifications?
I have a Bachelor of Science in Marketing from the University of Texas at San Antonio. Additionally, a 4-8 Science Teaching certification and ESL certification.
What are your hobbies?
I love to go kayak fishing and to coach baseball.
What advice would you give to someone who wants to have a career like yours?
Take chances and don't feel you have to stay where you are. If you work hard enough, you can attain any goal. Be patient and consistent in everything you do. Building relationships goes a long way.
How did you get involved with the Nautilus Exploration Program? How did you get on the ship?
This opportunity was presented to me by the science specialist. I immediately asked for more information and applied to be a part of the program. 
Expeditions
Hector participated in the following Ocean Exploration Trust expeditions: