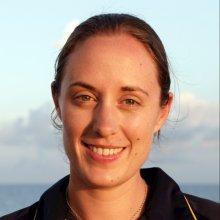 Hannah Prior
Science Communication Fellow
Programme Director
The Sir Peter Blake Trust
Hannah Prior is a Programme Director at The Sir Peter Blake Trust, a charitable trust based in Auckland, New Zealand. The Trust was set up to continue the legacy of a great New Zealand sailor and explorer, and aims to inspire and motivate the next generation of leaders, adventurers and marine environmentalists. Hannah leads the Trust's Young Blake Expeditions programme, and organised both its inaugural expedition in 2012 which saw 30 secondary school students and a crew of scientists, artists, educators and leaders travel to the Kermadec Islands and marine reserve (800km NE of New Zealand) on board the Royal New Zealand Navy's HMNZS Canterbury, and the Trust's most recent expedition to the Southern Ocean and Sub-Antarctic Islands on board HMNZS Wellington in February this year.
Hannah Prior graduated from the University of Auckland (New Zealand) in 2005 with degrees in Law and Arts (Political Science and Geography). She was admitted as a Barrister and Solicitor of the High Court of New Zealand in 2006. 
"The ocean covers 71% of the Earth's surface and contains 97% of the planet's water, yet more than 95% of it remains unexplored. I am really looking forward to returning to the Nautilus this season, to exploring parts of the ocean that have never been seen before, and to being part of the Corps of Exploration making new discoveries." 
Expeditions
Hannah participated in the following Ocean Exploration Trust expeditions: