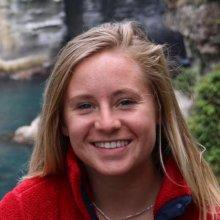 Hannah MacDonald
Education
Education Specialist
Office of National Marine Sanctuaries
Tell us about your work/research. What kinds of things do you do?
I work on connecting people to the ocean and Great Lakes through engaging online interactions, distance learning programs, and virtual reality media. I am interested in bringing the ocean and Great Lakes environments, life and resources to everyone through the use of technology. My goal is to support connect people to these special marine places and inspire them to further understand, protect and explore them. 
What sparked your initial interest in your career?
I consider myself very fortunate to have grown up on the freshwater shore of Thunder Bay National Marine Sanctuary in Alpena, Michigan. The Great Lakes instilled a sense of wonder in me that have me marveling at the variety of ecosystems and life in the ocean. As I am very interested in how we are connected to the planet, I studied earth science, marine ecosystem management and environmental studies and sustainability in university. I worked on various marine research projects before realizing my real passion was in sharing the excitement of the ocean and Great Lakes with others through education and outreach. 
Who influenced you or encouraged you the most?
My mentors at Thunder Bay National Marine Sanctuary encouraged me to explore other national marine sanctuaries, connected me to incredible learning opportunities and supported me to follow my passion. I am influenced and motivated by students of all ages as they learn, connect to and experience the ocean and Great Lakes. 
What element of your work/study do you think is the most fascinating?
The most fascinating project I have worked on lately is supporting the development of and sharing a 360º underwater video. Seeing the reaction of a viewer experiencing a virtual dive into a national marine sanctuary is incredible. Marine places can be inaccessible to many people, having the capability to connect them virtually is a unique tool.  
What other jobs led you to your current career?
I have held various marine-related positions that have led me to my current position. Experiences that have guided me here include sea turtle research intern, aquatic animal lab intern, shipboard science educator, visitor experience specialist, coastal science educator, oceanography camp programmer, and an environmental youth council coordinator. An aspect of my passion has been aligned to these various positions through different avenues, allowing me to always learn new skills. 
What are your degrees and certifications?
Bachelor of Science in Earth Science - Michigan State University 2018
What are your hobbies?
I love doing anything on the water including a peaceful swim in the chilly Great Lakes. I love yoga, live music and pushing my endurance running and biking. Any of those activities paired with sustainability or connecting to the outdoors are right up my alley! 
How did you get involved with the TBNMS project with OET?
As the Education Specialist for Office of National Marine Sanctuaries, I focus on telepresence education and outreach and with my knowledge of Thunder Bay National Marine Sanctuary I was recruited to support the education component of this project. I am very excited to explore the place that started it all. I can't wait to learn more about Lake Huron throughout this expedition. 
What advice would you give someone who wants to have a career like yours?
Find what truly excites you, dig deeper to find reasons why you are excited and then connect to different opportunities that allow you to gain the skills you need to truly understand what it takes to succeed in your desired position. Most importantly, take the time to connect with those around you, I would not be where I am today without the advice and support from mentors.