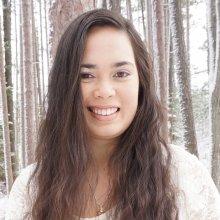 Hannah Hazewinkle
Education
Education Specialist
Friends of Thunder Bay National Marine Sanctuary
Tell us about your work/research. What kinds of things do you do?
I am an informal community educator and a 4-H leader. I've taught a broad range of subjects in my career, from math to team-building to survival skills, but my passion and specialty is environmental science and sustainability. This year my work has centered on marine debris awareness, climate change education and ROV building, all very exciting topics. I do interpretation, education, and outreach projects, working both in the office and "in the field" (classrooms, public spaces, and outside!). I work primarily with K-12 students, but also often have the pleasure of being a resource of environmental knowledge for adults in my community. 
What sparked your initial interest in your career?
I've been passionate about nature and conservation since I was a child, so pursuing a career in the environmental field was a given. I wanted to be a field scientist for the longest time, but when I completed an environmental education internship in my junior year of college, I knew that working with youth and community members was my calling. My goal was always to encourage people to pursue lives that were more harmonious with nature and protect ecosystems and their inhabitants. I realized that the most direct and fulfilling way to do that, for me, was to be on the front line, talking to people and working to build strong, resilient communities. 
Who influenced you or encouraged you the most?
I've been very fortunate to have a number of professional mentors along the way who have given me many opportunities and guided me through my career journey. 
What element of your work/study do you think is the most fascinating?
The most interesting thing about my work is definitely the variety. None of my days are ever the same as the one before. On any given day you might find me teaching in a classroom, planning outreach events with my 4-H youth at a coffee shop, or talking to visitors at the Thunder Bay National Marine Sanctuary visitor center. Through my work, I have the opportunity to connect with so many different students and community members, building relationships and weaving myself into the community fabric. No boring, drawn-out work days for me! 
What other jobs led you to your current career?
Previously, I've worked as an educator and instructor at a nature center and various camps (school camp, Girl Scouts). I also served a full AmeriCorps term with a place-based stewardship education network in 2018. 
What are your degrees and certifications?
I have a B.S. in Environmental Biology/Zoology from Michigan State University, and hope to become a certified teacher in the next few years. 
What are your hobbies?
I love to hike, do yoga, and cook healthy vegetarian meals with as many local Michigan ingredients as possible. 
How did you get involved with the TBNMS project with OET?
As an Education Specialist at the TBNMS visitor center, I have the opportunity to be involved in a lot of outreach and education programming, such as the OET live-stream connects and the MATE Regional ROV Competition where we will be streaming with Dr. Ballard. 
What advice would you give someone who wants to have a career like yours?
Environmental education can be a difficult field to make a living in. I would say that good interpersonal skills are critical, and so is a willingness to throw yourself into a variety of contexts and try a lot of different things. You'll find yourself in a lot of chaotic situations with a lot of different people. EE is not usually a steady, 9-5, Monday through Friday commitment! You have to be very adaptable, motivated and compassionate to be a good educator. If you can handle the chaos, you'll have a lot of fun and find the positive impact that you have on people to be very fulfilling.