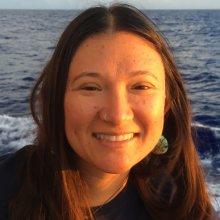 Hanae Spathias
Co-Lead Scientist
Research Scientist
NOAA National Marine Sanctuary of American Samoa
Tell us about your work/research. What kinds of things do you do?
I specialize in coral biology and restoration. Currently, at the National Marine Sanctuary of American Samoa, we are working on starting a coral reef monitoring study within our Sanctuary sites and coral nursery project.  
What sparked your initial interest in your career?
I was always fascinated by the ocean and the underwater world growing up.
Thus, I studied Oceanography in undergrad. The year before my last year of undergrad I received an internship opportunity with NOAA. It was during my internship with NOAA's Restoration Center in Puerto Rico that I realized what I truly wanted to focus my career on, coral reef restoration, marine conservation, and conduct coral reef research.
Who influenced you or encouraged you the most?
My father always encouraged me to work hard, go after my goals, and pursue my true passion.
What element of your work/study do you think is the most fascinating?
One of the most fascinating things about my work is being able to work in the ocean regularly and SCUBA dive.  
What other jobs led you to your current career?
I have worked various jobs with universities, non-profits, government, and the private sector throughout the years. Some of which included working on different types of coral restoration and marine conservation projects in the US Caribbean as a scientist, and working for an environmental consulting company conducting marine monitoring projects.
What are your degrees and certifications?
Bachelor of Science in Oceanography - Humboldt State University 2011; Masters of Science in Marine Sciences 2017 
What are your hobbies?
I love to be in the ocean freediving, SCUBA diving, or swimming. I also enjoy hiking, camping, and making crafts.   
How did you get involved in the Nautilus Exploration Program?
The National Marine Sanctuary of American Samoa is assisting in coordinating this leg of the cruise.
What advice would you give someone who wants to have a career like yours?
While in undergrad apply to as many internships as possible in areas that are of interest to you. I believe internships are the best way to figure out early on what you want to pursue in your career and/or get a feel for what you think you want to pursue. You never really know until you actually get out there in the real world.
I had done several other internships prior to the one with NOAA where I realized what my true passion was in the field of marine science. Keep trying new things until you find what you are truly passionate about, you may have to work in other realms of marine science in order to reach your dream job, don't give up!