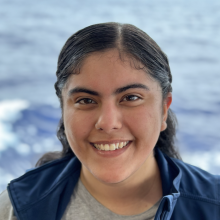 Guadalupe Zapata
She/Her
Ocean Science Intern
Undergraduate
Tuskegee University
Tell us about your work/research. What kinds of things do you do?
I am a senior Animal Science major at Tuskegee University. I am right now exploring my options on the veterinarian world, for I plan to work with the ocean life!
What sparked your initial interest in your career?
Ever since I was a little girl I have always wanted to help animals in need, so in high school, I started working and volunteering in animal clinics which really helped show me that veterinarian is what I wanna be.
Who influenced you or encouraged you the most?
My mother influenced me the most, for she was in the medical field as a phlebotomist. I would go to work with her a lot and just seeing her care for her patients and the love she had for her job helped show me what it would look like for me once I found that job I love.
What element of your work/study do you think is the most fascinating?
The most fascinating thing I have done is I got to watch in and assist on a bulldog having a C-section. That was amazing to see and help with, I felt like I was already a vet.
What other jobs led you to your current career?
I've had many great opportunities that modified my career goal: volunteering and working at local animal clinics such as Gadsden Animal Clinic, Rainbow City Animal Clinic, and then I even did K-9 Training. Volunteering at the animal clinics began my freshman year of high school where I took a health science class that allowed us to go to places that represented our career goal.
What are your degrees and certifications?
I am currently working on my Bachelor of Science in Animal Science
What are your hobbies?
My hobbies are painting, baking and video games! I also enjoy quality time with family and friends.
What advice would you give someone who wants to have a career like yours?
If you want to go into veterinarian really explore every option there is especially getting experience with all animals. Learn all that you can about the field you want to go in, listen, and really make connections with those higher. Do not rush take your time and make sure that you take care of yourself mentally and physically.
How did you get involved with the Ocean Exploration Trust?
I got involved with Ocean Exploration Trust through Rae Quadra who is an advisor over the Ocean Exploration Club at Tuskegee University. I became part of the club and attended the Mississippi Field trip to the Marine Center, after that I was amazed and ready to be part of the team!
Expeditions
Guadalupe participated in the following Ocean Exploration Trust expeditions: