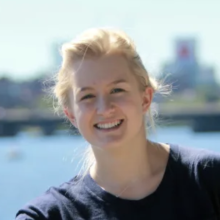 Grace Young
She/Her
Data Sovereignty Project Team
Research Engineer & Lead Scientist
X, The Moonshot Factory
What is your history of engagement with the National Geographic Society?
National Geographic Emerging Explorer (Class of 2017)
Tell us about your work/research. What kinds of things do you do?
As an Ocean Engineer, avid sailor, diver, and National Geographic Explorer, I'm passionate about developing tools to better understand, explore and manage the ocean. I've developed robots, imaging systems, and other technologies for MIT, CERN, NASA, Woods Hole Oceanographic Institution (WHOI), and the National Oceanic and Atmospheric Administration. I've assisted National Geographic in various initiatives to educate and inspire young people about the ocean, including augmented reality exhibitions, games, and classroom outreach. In 2014 I lived underwater for 15 days as a mission scientist on Fabien Cousteau's Mission 31, the youngest Aquarius aquanaut at the time. I'm currently a Senior Research Engineer and Lead Scientist at X, Alphabet's Moonshot Factory (formerly GoogleX), where my team is creating radical new technologies to protect the ocean while feeding humanity sustainably.
What sparked your initial interest in your career?
Growing up near the Great Lakes and the Chesapeake Bay instilled in me a love of water and marine ecosystems. I'm happiest when I'm on, in, or near the waves. Joining a rookie robotics team in high school confirmed my propensity for engineering. When I learned that Ocean Engineering was a major at my university I was hooked - the perfect storm of my passions! Today Ocean Engineering is my career and I work every day to apply my skills to help us to understand and responsibly manage our shared ocean.
What element of your work/study is the most fascinating?
My favorite moments are when tools I help to build reveal hidden phenomena or patterns that we couldn't detect otherwise. For example, a camera I worked on let us watch the ultra-fast movements of a mantis shrimp in ultra-slow motion; we could slow down a movement that happens in less than the blink of an eye and learn from every detail! Another underwater imaging system I've worked on counts camouflaged parasites on fish to help farmers make decisions about how to care for their fish through sustainable aquaculture. Our human biology limits us underwater, so we need technology to help us breathe and sense the environment, and we have so much to learn!
What other jobs or skills led you to your current position?
I earned my BSc in Mechanical & Ocean Engineering from MIT, and my Ph.D. from the University of Oxford, jointly supervised by the Engineering Department (for Computer Vision) and Zoology Department (for marine biology). I'm also an avid SCUBA diver (Divemaster) and sailor (who sailed across the Atlantic for charity). Before college, believe it or not, I spent just as much time in the ballet studio as I did in math and science classes. Dance has given me an appreciation for the arts and a discipline that I apply to my projects. These skills have helped me to collect data and develop an intuition about the ocean. I have also been honing my storytelling skills as a National Geographic Explorer to share what I've learned and gain new perspectives. I often think of something someone at NatGeo said to me: "if you don't communicate what you did, did you even do it?"
What are your degrees and certifications?
Bachelor of Science in Mechanical and Ocean Engineering -- MIT 2014;
Ph.D. -- University of Oxford 2018;
Divemaster -- PADI 2016
What are your hobbies?
I love water sports (sailing, SCUBA diving, swimming), hosting dinners with friends, and listening to podcasts - and still love ballet!
What advice would you give someone who wants to have a career like yours?
My foundational skills in math, coding, and writing help me in every area of my work. As you are in school, know that these skills will come in handy later! I'm thankful I was patient with myself learning to code, and with other skills. When I started coding at age 17, I felt like I was late learning to code (some people in my class had been coding since kindergarten), but now I've been coding for 11+ years and feel very comfortable with it. I'm glad I didn't give up in the early days! It's never too late to learn! In general, I often think back to the advice I was given early in my career: "Do something you're not ready to do; worst case you discover your limitations."
Expeditions
Grace participated in the following Ocean Exploration Trust expeditions: