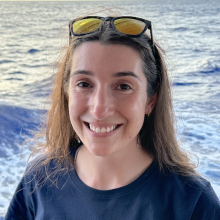 Giuliana Fillion
She/Her
Science/Data Team
Lab Manager
Harvard University
Tell us about your work/research. What kinds of things do you do?
My research interests are in deep-sea ecology and biogeochemistry. I am particularly interested in understanding how biochemical processes shape marine ecosystems and vice versa. Prior to the NA149 Expedition, I worked in the Invertebrate Zoology and Malacology Collections at the Museum of Comparative Zoology (MCZ) at Harvard University where I primarily managed deep-sea specimens. I was responsible for managing datasets and contributing to the museum-wide database, MCZbase. Upon my return from this expedition, I will begin a position as a lab manager in the Srivastava Lab at Harvard University, where I will study the genetics and cellular mechanisms of regeneration and development in the three-banded panther worm. At the MCZ, we make biogeographical data available to researchers and the general public. It is my goal to utilize research and museum studies to understand marine ecosystems from the micro- to global scale and to discover how anthropogenic pressures are affecting marine ecosystems.
What sparked your initial interest in your career?
I grew up in Massachusetts, just an hour from the coast, and as a kid, I spent a lot of time outdoors. My interests have evolved throughout my life, but my love for the natural world has remained constant. In the senior year of my undergraduate degree, I was encouraged by my advisor to minor in marine science where I realized my affinity for research and love for the deep sea.
Who influenced you or encouraged you the most?
I've been fortunate to have many wonderful mentors, friends and family who have shaped me as a person and a scientist. Of all these amazing people, I have to say my sister has been the most influential person in my life. She is my best friend and biggest cheerleader. Without her, I would not be where I am today.
What element of your work/study do you think is the most fascinating?
It fascinates me how little we know about the deep-sea. One of the most exciting things about my work is that you could be looking for one thing and instead, find something completely unexpected that you never would have thought to look for in the first place.
What other jobs led you to your current career?
I was a research assistant in the Rotjan Marine Ecology Lab at Boston University, where I annotated deep-sea footage from the 2021 Falkor expedition to the Phoenix Islands. I was also a research assistant in Dr. Jeffrey Marlow's Microbial Ecology Lab where I used fluorescent in situ hybridization to study microbial populations in salt marsh sediments.
What are your degrees and certifications?
I have a BA in Environmental Science from Boston University.
What are your hobbies?
This year I've started doing cold plunges. I also love running, hiking, and traveling.
What advice would you give someone who wants to have a career like yours?
Follow your curiosity. Once you find your niche, look for opportunities to get involved and make connections. Lastly, don't be afraid to ask questions.
How did you get involved with the Ocean Exploration Trust?
I was recommended for the NA149 cruise to the Palmyra Atoll by Brian Kennedy, who I worked with in the Rotjan lab.
Expeditions
Giuliana participated in the following Ocean Exploration Trust expeditions: