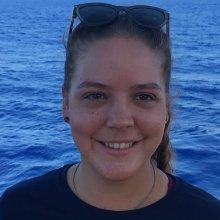 Georgia Coward
Science/Data Team
Coral Reef Ecologist
Coral Reef Advisory Group/ Department of Marine and Wildlife Resources, American Samoa
Tell us about your work/research. What kinds of things do you do?
I am a Coral Reef Ecologist, working with the Government of American Samoa. My primary focus is to monitor the shallow coral reefs of American Samoa to detect changes and any stressors, and to use this information and data to develop appropriate management measures. I work alongside partner agencies, both local and federal, to collaborate on a multitude of biological, oceanographic and community outreach projects.
What sparked your initial interest in your career?
Growing up on the coast of Australia, and the Middle East, I could swim before I could walk. I always loved the oceans, particularly coral reefs and became SCUBA certified at the age of 14. My whole family dive, and I love having this to share with them; I just took my love for the ocean and diving one step further! I have now completed almost two thousand dives around the tropics, and I always see and learn something new. I also always knew that I wanted to be in a position that allowed me to work with the communities that depend on these resources, and where my actions can count towards preserving them for the future generations. Marine science is still a relatively new field, and we have so much to learn and discover and I feel lucky to have any opportunity to learn, experience new things, and help with these discoveries!
Who influenced you or encouraged you the most?
What a tough question! So many people have encouraged me. My parents have always encouraged me to travel, explore and take every opportunity. My colleagues have also always motivated me to continue learning and developing as a scientist.
What element of your work/study do you think is the most fascinating?
One of the most fascinating parts of my work is that no day is ever the same.
What other jobs led you to your current career?
I have had many great opportunities that have led me to my current position. I have worked with non-profit organizations, and foundations around the world, including in New Zealand, Vanuatu, Solomon Islands, Maldives, and the USA. My roles have always been varied, but have focused on field ecology, collection, and analysis of data, and translation into different mediums, including scientific manuscripts and reports, and outreach resources for schools, local communities and members of the public.
What are your degrees and certifications?
Master of Science in Marine Environmental Management- University of York, UK (2012-2013)
Bachelor of Science in Marine Vertebrate Zoology- Bangor University, Wales (2009-2012); 1st aid and CPR certified
What are your hobbies?
I love to explore, hike, bake and travel.
What advice would you give to someone who wants to have a career like yours?
Don't give up. Coral reef ecology is a competitive field, but it is also very exciting and worthwhile! Keep searching for great opportunities to learn, and advance your skills. Be willing to try and learn new things, with different people and in different locations. Experience is key.
How did you get involved with the Nautilus Exploration Program? How did you get on the ship?
As a representative of the local Government, I have been working closely with the team at National Marine Sanctuar​ies of American Samoa to identify key areas and priorities for the Nautilus Expedition in American Samoa. I am very excited to jump on board the Nautilus this year.