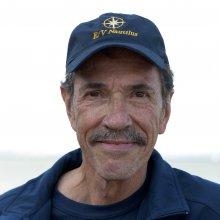 Gary Williams
Science/Data Team
Curator of Invertebrate Zoology
California Academy of Sciences
Tell us about your work / research. What kinds of things do you do?
I am an invertebrate zoologist and specialize in the systematics, phylogenetics, biodiversity, and biogeography of octocoral cnidarians (soft corals, gorgonians, and sea pens). These octocorals represent 64% of all known coral species and range from sea level to 6200 m in depth with worldwide distribution. My fieldwork is currently focused in the western tropical Pacific and the deep-sea off California. I use the scanning electron microscope to image the structure of microscopic octocoral sclerites, which are the skeletal elements that are used in comparative systematics and aid in diagnosing a particular taxon.
What sparked your initial interest in your career?
An early interest in natural history coupled with growing up in coastal northern California close to the ocean. This was aided by high school biology field trips to the rocky intertidal zone and the development of an appreciation and interest in the organisms that inhabit tide pools.
Who influenced you or encouraged you the most?
High school teachers, museum curators, university professors.
What element of your work / study do you think is the most fascinating?
Discovering and describing new genera and species of octocorals. The utilization of the scanning electron microscope to observe and discover morphological and ultrastructural details of coral skeletal elements. The use of Remotely Operated Vehicles to explore deep benthic environments for deep-sea octocorals.
What other jobs led you to your current career?
Chief Professional Officer (Research Scientist) in Marine Biology at the South African Museum, Cape Town; Lecturer in Marine Ecology at the School For Field Studies, Northeastern University (The Virgin Islands Environmental Resource Station).
What are your degrees and certifications?
Bachelors in Biological Sciences (specialty in Ecology) at the University of California Berkeley; Masters in Marine Biology at San Francisco State University; PhD in Zoology at the University of Cape Town.
What are your hobbies?
Hiking, backpacking, nature photography
What advice would you give to someone who wants to have a career like yours?
Marine biologists with the best academic foundation and the broadest spectrum of knowledge for the study of marine organisms are those that are well trained in organismal biology (natural history, taxonomy and systematics, evolutionary biology, and ecology), that provides a strong and necessary foundation for other fields of study in biology.
How did you get involved with the Nautilus Exploration Program? How did you get on the ship?
Collaboration with NOAA, Greater Farallones NMS, and Cordell Bank NMS as an onboard scientist during ROV surveys, and as an ashore scientist during the August 2016 Nautilus expedition to the Greater Farallones NMS.
Expeditions
Gary participated in the following Ocean Exploration Trust expeditions: