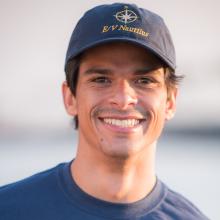 Gabriel Castro-Falcón
Science/Data Team
Postdoctoral Researcher
Scripps Institution of Oceanography, UCSD
Tell us about your work/research. What kinds of things do you do?
I study chemical constituents with medicinal value from marine organisms like bacteria, algae, corals, sponges, and mollusks. These seemingly elaborate organic molecules are made or retained by the organisms in order to cope with their environment by, for example, serving as communication signals, extracting micronutrients from surrounding waters, or serving as cell-damaging defense agents. A lot of the time I am growing many different bacteria in small cultures to see growth patterns and to test for compound production before choosing one or two strains with attractive characteristics that are grown in large-scale cultures.
What sparked your initial interest in your career?
As a kid, I always liked the sciences, the ocean, and the forests. Because of this, I chose to study natural sciences, focusing in chemistry. And at the university, a great professor of organic chemistry explained the topic in such a way that I fell in love with the discipline. Wanting to explore the scientific process, I chose to perform laboratory research in order to understand the chemical aspects of beautiful marine creatures like sponges, algae, and corals. Then during my graduate studies by studying bacteria I got a sense of their tremendous and largely unexplored potential to produce medicinal compounds.
Who influenced you or encouraged you the most?
My parents have influenced me the most by giving me the confidence to tackle new beginnings. Professors at the university have been instrumental in learning the concepts and guiding research.
What element of your work/study do you think is the most fascinating?
It's really fascinating to work with bacteria and studying molecules that no one has seen before.
What are your degrees and certifications?
Bachelor of Science in Chemistry - University of Puerto Rico, Río Piedras; Doctor of Philosophy in Marine Biology - Scripps Institution of Oceanography, University of California, San Diego.
What are your hobbies?
I love surfing, snorkeling, and getting together with friends.
What advice would you give someone who wants to have a career like yours?
The advice I would give someone who wants to have a career in science is to ask and address their own questions as much as possible.
How did you get involved with the Ocean Exploration Trust?
I am part of a microbiology laboratory headed by Prof. Paul Jensen that was awarded the opportunity to conduct research with Ocean Exploration Trust.