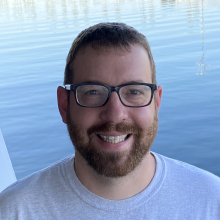 Fred Marin
Mesobot Team
Engineering Assistant III
Woods Hole Oceanographic Institution
Tell us about your work/research. What kinds of things do you do?
I provide technical support to autonomous instrumentation. Process raw data. Build and test instrumentation. Manage instrument deployment operations.
What sparked your initial interest in your career?
Taking my first class on Plankton Ecology!
Who influenced you or encouraged you the most?
Malinda Sutor, Ph.D. who was my graduate advisor at Louisiana State University.
What element of your work/study do you think is the most fascinating?
I love traveling to remote places of the world. I was just part of a mission in the Arctic before joining Nautilus for this mission. 
What other jobs led you to your current career?
I had a position working as a Marine Fisheries Observer for NOAA that inspired me to stay involved in ocean science and taught me the value of going to sea to collect data.
What are your degrees and certifications?
B.S. Biology
Master of Science  Oceanography and Coastal Sciences
What are your hobbies?
Freediving; spearfishing; SCUBA diving; sailing; cycling; splitting firewood.
How did you get involved with the Ocean Exploration Trust?
I provide science and engineering support for AUV Mesobot which operating off the E/V Nautilus as part of the NOAA Ocean Exploration Cooperative Institute testing expedition.
What advice would you give someone who wants to have a career like yours?
Stay focused on your studies!
Make connections to people in the industry.
Don't be afraid to shift gears when you need to!
Expeditions
Fred participated in the following Ocean Exploration Trust expeditions: