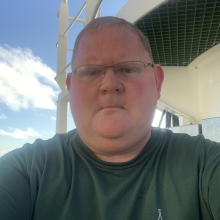 Frank Thompson
Co-Investigator Ashore
Director, Collection Management Division
Naval History and Heritage Command
Tell us about your work/research. What kinds of things do you do?
I oversee the U.S. Navy's historic art, artifacts, archaeological collections as well as the conservation programs. I have worked with historical collections for over thirty years. I was part of the 2019 Midway expedition aboard the RV Petrel that located the wrecks of IJNS Kaga and IJNS Akagi.
What sparked your initial interest in your career?
In 1981, on a family trip to Honolulu, we went by the Pearl Harbor Memorial. I became fascinated by the history of the U.S. Navy. I began reading whatever books I could find on the subject. In college, one of my professors happened to be a naval historian. Through him, I had a one year internship at one of the former naval ships preserved as a museum. From there, I moved to an entry level position at the Naval Historical Center, now Naval History and Heritage Command.
Who influenced you or encouraged you the most?
Dr. Clark Reynolds, my college mentor encouraged me to continue my long held interest in all things Navy. During my internship, Mr. E.G. Sturgis and Ms. Judy Slack both helped me to overcome my own innate shyness and to be more proactive in my career. Without that ability, I would have missed out on many wonderful opportunities.
What element of your work/study do you think is the most fascinating?
I have always enjoyed researching the history of the artifacts in our collections. Recently, I have been involved with the review of data and images recently discovered wrecks. In 2019, when the ROV dove on the wreck of the Kaga, the realization that the team members were the first people to see her in almost 80 years was quite a thrill.
How did you get involved with the Ocean Exploration Trust?
I was invited to be part of the team because of my participation in the 2019 expedition.
What other jobs led you to your current career?
I worked my way up from an entry level curator position in the Curator Branch of the Naval Historical Center to section head, then branch head. In 2012, the Curator Branch merged with the Art, and Underwater Archaeology Branches to form the Collection Management Division. I was selected as the division deputy, a position i held until 2023.
What are your degrees and certifications?
Bachelor of Arts in History - College of Charleston 1992
What are your hobbies?
I love to travel. In particular, I love to visit sites where profound events took place around the globe. Reading is still a very important part of my life as well.
What advice would you give someone who wants to have a career like yours?
Never be afraid to try new things. Knowledge is a gift. Never stop learning.
Expeditions
Frank participated in the following Ocean Exploration Trust expeditions: