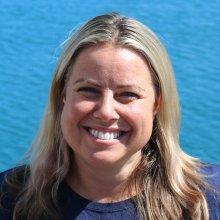 Fleur Ferro
Science Communication Fellow
Professor
Community College of Denver
Tell us about your work / research. What kinds of things do you do?
I am a biology professor at the Community College of Denver and have been there since 2006. My master's degree is in Marine Biology, and my specialty is coral reef fishes. I always wanted to study fish and moved to Florida to do so. I spent many years researching the coral reef fish assemblage structure off Broward County, Florida. Since I live in Denver, CO, I travel quite a bit to go on scuba diving trips around the world, although we have some interesting craters to dive in here in the western U.S.!
What sparked your initial interest in your career?
Growing up in Chicago, the only exposure I had to ocean creatures was at the Shedd Aquarium. I was always fascinated with the ocean and its inhabitants. When I was about 12 years old, I traveled with my family to the Cayman Islands and went snorkeling and scuba diving, which was when my interest in making marine biology my career was sparked! There was so much happening on a coral reef that I had to know more about it! I moved to Florida to pursue my undergraduate degree in Marine Biology and then I completed my master's degree in Marine Biology right afterward.  
Who influenced you or encouraged you the most?
My parents were really encouraging and they always exposed me to the ocean as much as they possibly could. They always supported me to follow my dream of becoming a marine biologist by giving me the confidence to believe in myself and to take risks in life, even if I didn't know if they would work out or not.
What element of your work / study do you think is the most fascinating?
The most fascinating thing about my research was actually seeing how interrelated fish, corals, invertebrates, and the geology of the oceans were. When I got to analyze relationships between all of these factors, it blew my mind to find correlations that I was not expecting to be there!
What other jobs led you to your current career?
I've had jobs all over the place that have brought me to my current position. I have worked as a sailing coach, airboat driver, environmental educator, mangrove seed planter, marine fish ecologist, wilderness instructor, environmental consultant, divemaster, teaching assistant, middle school science teacher, and now I'm a biology professor. I like to decide if I like to do something by giving it a full shot first, so I have an actual experience to help me decide. I'm always willing to give anything a shot because you never know where it could land you. I think my willingness to meet new people and network, ability to speak Spanish, and my adaptability to different situations have all helped to provide me with so many opportunities in my life personally and professionally.
What are your degrees and certifications?
Bachelor of Science in Marine Biology, Minor in Spanish- Eckerd College 1998
Masters of Science in Marine Biology- Nova Southeastern University 2002
What are your hobbies?
I spend my free time scuba diving, backpacking with my dogs, mountain biking, snowboarding, and Crossfitting. I also make crazy cakes for people's special occasions!
What advice would you give to someone who wants to have a career like yours?
Don't be afraid of the unknown because that's where the magic happens! It's easy to get stuck in your comfort zone, but I think that it's when you step outside of it, even though that can be scary, that you grow. I never thought I would become a marine biologist, but I decided to step outside my comfort zone and see if I could take those tough classes and get through them, and I did! It's also important to make connections and really take the time look around at the people you admire and think about WHY you admire them. Go with what you are passionate about and that will keep you motivated even when it gets tough! The oceans need our help, and it won't be easy all the time, but when you have the big picture in mind, and you deeply care about it, the sky's (or the bottom of the ocean!) the limit!!
How did you get involved with the Nautilus Exploration Program? How did you get on the ship?
I stumbled upon the Nautilus Live website through Facebook, and when I began looking around, I saw that they were accepting applications to be a Science Communication Fellow, so I applied!
Expeditions
Fleur participated in the following Ocean Exploration Trust expeditions: