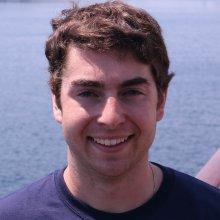 Everett Collins
ROV Engineering Intern
Undergraduate
University of Rhode Island
Tell us about your work / research. What kinds of things do you do?
I am entering my senior year majoring in Ocean Engineering with minors in Robotics and Mathematics at URI. I currently serve as a research assistant for the Robotics Laboratory for Complex Underwater Environments. I have been involved in many research projects here such as, studying the agility of biologically inspired ROV's, looking at the hydrodynamics of underwater flapping foils, and I'm currently working on developing a soft robotic manipulator that's capable of manipulating fragile objects. Besides my time at URI, I am currently an intern at the Naval Undersea Warfare Center in Newport, RI with the Tactical Unmanned Undersea Vehicle Systems Department working closely with multiple types of AUV's and ROV's and their day-to-day operations.
What sparked your initial interest in your career?
What drove me to pursue in Ocean Engineering is that we know more about our solar system than the oceans that lay right outside our backyard. This amount of undiscovered potential within the oceans will one day be the key to many unanswered questions, which will someday revolutionize how we live. Answering those questions and contributing to making the world a better place is what I want to do. 
Who influenced you or encouraged you the most?
My family, especially my father, my uncles, and my grandmother have been there since I started my engineering career at 5 years old playing with Legos. Without them, I wouldn't be where I am today. I would also like to thank the following people: The Fenton family, who coached my high school's robotics team, for teaching me about perspective and becoming a team player and a future leader. My mentors at NUWC, Christos Agoros, and Scott Veitch, for allowing me to develop in the professional environment. Lastly, Dr. Stephen Licht for allowing me to contribute to the groundbreaking work within his lab.
What element of your work / study do you think is the most fascinating?
My research with the soft robotic manipulator is by far the most fascinating thing I've done lately. The gripper, which utilizes the concept particle jamming, is made to manipulate fragile objects and artifacts that lay on the ocean floor. It is capable of picking up anything from small clumps of dirt to ancient clay vases that have been untouched for ages. Being able to contribute to something that may one day discover new evidence of our early ancestors is truly remarkable.
What other jobs led you to your current career?
I've had many opportunities, however, it started when I participated in FIRST Robotics throughout middle school and high school. This then led to an apprenticeship program at the Naval Undersea Warfare Center in Newport, RI during my senior year building small PVC ROVs to accomplish tasks modeling real life situations. From there, I attended URI where I co-founded the URI MATE ROV team and currently serve as the Vice President. Outside of my studies at URI, I'm also a FIRST Lego League Mentor for a local middle school. With these experiences, I was awarded the SMART Scholarship, which is an academic award sponsored by the Department of Defense and the U.S. Navy. This award has led to many opportunities to grow professionally at the Naval Undersea Warfare Center.
What are your degrees and certifications?
Open Underwater SCUBA Diving (SDI)
What are your hobbies?
I love to get involved in projects and getting my hands dirty working with machinery (particularly the design of underwater vehicles and instrumentation). Besides that, I enjoy skiing, rock climbing, kayaking, quahogging (clamming), golfing and most importantly, spending time with my family. 
What advice would you give to someone who wants to have a career like yours?
Never give up; you're capable of a lot more than you think you are if you're willing to put the time and effort into it. Don't be afraid to ask questions and to seek other opportunities to expand your professional boundaries. Lastly, be yourself, enjoy what you do, work hard, be confident and don't let anyone define you. 
Expeditions
Everett participated in the following Ocean Exploration Trust expeditions: