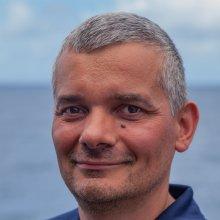 Eugen Babau
Guest
Executive Director
Philip Stephenson Foundation
Eugen Babau leads the projects of the Philip Stephenson Foundation dedicated to understanding, protecting and enjoying the oceans. Eugen's affinity for the Caribbean islands for the past 18 years led him to applying his extensive marketing and communications skills to promoting sustainability and conservation in hospitality operations, as well as the creation of marine protected areas in the region.

Eugen's experience spans more than two decades and six countries, with particular expertise in media relations, government and community relations, public affairs and crisis management. Driven by a sense of mission, he loves immersing himself in new, fluid situations presenting a challenge and the possibility to act as an agent of change. His current interests are in marine conservation, energy and renewable resources, climate and environment, infrastructure and sustainable development including the hospitality industry, social marketing and more.
He also enjoys writing, reading historical novels, traveingl to remote places, discoveries, spicy healthy food, yoga, skiing, swimming and SCUBA diving.
Eugen Babau earned his B.A. in journalism and public relations from California State University, Chico and is a dual citizen of Romania (EU) and the United States, with strong West Indian family influences.