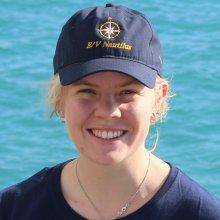 Erin Ranney
Video Engineer
Freelance Filmmaker
Freelance
Tell us about your work/research. What kind of things do you do?
I am a freelance wildlife cinematographer. I work in small teams around the world filming wildlife documentaries for both television and digital output. Every day seems to be a bit different- sometimes I'm hiking around remote Alaska side by side with brown bears, other days I'm surrounded by penguins.  
What sparked your initial interest in your career?
Right after I graduated with a degree in Wildlife Ecology from Washington State University, I left for a field research technician job in Madagascar. When I was out in the middle of the rainforest, I fell even more in love with cameras and capturing images of the wildlife all around me. I was able to bring images of wildlife to other people, including classrooms, and talk about the field research we were working on. The kids got so excited to see the images and learn more about the animals! It was really exciting to see every book on Madagascar in the school library checked out after I'd visited them. I then decided to change career paths from a scientist to a filmmaker and headed to a master's program in England specializing in wildlife filming. It was a dream career for me to be a wildlife camerawoman; part of me honestly did not think it was possible at first. I'm so happy I took the leap. I think the first step to getting people to make a difference in the natural world is to make them fall in love with it and film encourages that. It takes people to places they may never get to see! 
Who influenced you or encouraged you the most?
My family has always been supportive and they all have very adventurous backgrounds. Even when I was little, they constantly had me outside and exploring in all weather! They are still the first ones to offer to drive me to the airport for a job, take me somewhere on the boat or plane, put up with my schedule or talk through my ideas with me. Within filming there are have been so many big supporters- Mark and Mary Emery were the first ones to give me an opportunity in the field and from there the support just kept flowing in. It's been a really amazing experience.  
What element of your work/study do you think is the most fascinating?
I have the opportunity to bring people to places that they may never have the opportunity to visit. And I have been able to meet conservationist heroes making huge differences- it's very humbling and exciting.   
What other jobs led you to your current career?
My career path has been all over the place but almost always exploring wild places. I started in Wildlife Ecology, having some amazing opportunities at Washington State University working in labs, hands-on with rehabilitated birds of prey, with bears and ungulates at the research centers, and spent a year doing fieldwork as a technician in remote study sites after graduation. I have spent most of my life working in the commercial fishing industry in Alaska- currently in Bristol Bay- and also guided as a naturalist throughout Alaska in glaciers, kayaking, wildlife viewing, and photography trips. I also crewed on a sailboat down in the sub-Antarctic.
What are your degrees and certifications?
Bachelor of Science in Wildlife Ecology—Washington State University 2013
Masters of Art in Wildlife Documentary Production – University of Salford 2015
Wilderness First Responder- 2021
FAA Drone Pilot – 2017
BSAC Scuba diver—2015
What are your hobbies?
I love glacier exploring, kayaking, hiking; basically anything outdoors. I also have a dog that lives on my family's tree farm so we go on lots of walks when I'm back from a job.  
What advice would you give to someone who wants to have a career like yours?
Do not give up! There are some amazing people out there that are willing to help you if you are willing to put in the time and effort. Sometimes it's people you least expect. You cannot be afraid to ask for advice and help; we were all new at this at some point. Sometimes you are going to have to work other jobs to support yourself as you progress in the industry, but it's all worth it.
How did you get involved with the Nautilus Exploration Program? How did you get on the ship?
I applied for the video engineering intern program and after completing the internship was invited back as a Video Engineer. I cannot recommend the internship program enough- for me, it was a different kind of filming, and being around such enthusiastic, brilliant scientists, navigators and ROV pilots is so fun. 
Expeditions
Erin participated in the following Ocean Exploration Trust expeditions: