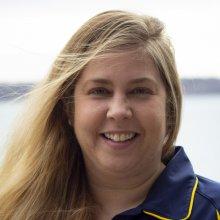 Erin Horan
Science Communication Fellow
STEM Instructor
Lemont High School
Tell us about your work/research. What kinds of things do you do?
I have been teaching at Lemont High School for the past 16 years. I started fresh out of college and I call Lemont High School home. I mainly teach AP Physics I and Advanced Research, but I enjoy teaching Chemistry when the opportunity arises. Through my time at Lemont HS, I have developed several curricula and projects that are STEM-based. I also serve as the Girls' swim team head coach for the past 12 years (2004-2014, 2018-Present). This year, I am the coordinator of Lemont HS's new CITGO Innovation Academy Makerspace, where I collaborate with teachers to integrate STEM into the classroom while using the most up to date technology.
What sparked your initial interest in your career?
I started in Physics because I loved to know why and how! I was always searching for the answers and physics was the best fit. Nothing is better than having a question and building something to find the answer.
Who influenced you or encouraged you the most?
My science teachers have always encouraged me and challenged me to think outside the box. The strong base they gave me as a child has helped create a teacher that allows her students to solve problems in unique and interesting ways.
What element of your work/study do you think is the most fascinating?
Every year and every student is different. Finding the best way each student learns and processes is the more challenging and fascinating part of being a teacher. Having students talk about your lesson in the hallway or referencing a concept a year later is the best feeling of accomplishment.
What other jobs led you to your current career?
I started fresh out of college as a chemistry and physics teacher. I have taught every level of physics from conceptual to AP Physics 1 and 2. Starting next year, I will be the CITGO Innovation STEM teacher at Lemont High School. In this new position, I will be collaborating with teachers in the classroom to help integrate new technology into their classroom. This includes the use of 3D printers and much more!
What are your degrees and certifications?
I graduated from Northern Illinois University in 2003 with a degree in Physics and a minor in Education. I continued my education with two master's degrees in the field of education. The first degree is in School Improvement Leadership (2007) from Olivet Nazarene University and the second is in Curriculum and Instruction (2009) from National Louis University.
What are your hobbies?
I love to swim, bike and take my Rottweiler on long walks!
How did you get involved with the Nautilus Exploration Program?
I was selected by CITGO Lemont as an Ambassador in 2015. Since 2015, I have expanded my work with the Nautilus Exploration Program by applying for grants, doing ship to shore interactions, hosting STEM nights, and attending professional development workshops.
What advice would you give someone who wants to have a career like yours?
If you want to go into teaching the best piece of advice that I would give is that you are not just teaching a subject but teaching your students to grow and think using your subject.