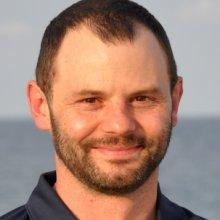 Erik Cordes
Science/Data
Associate Professor
Temple University
Erik has worked on the ecology of the deep sea for over 20 years, spending over a year at sea on over 25 research cruises and making over 35 dives in the manned submersibles Alvin and Johnson Sea-Link. His work is centered around the ability of organisms to shape their environment and increase habitat heterogeneity, but has increasingly become focused on the ability for humans to impact these processes in the deep sea. On this cruise, he will be focused on the overlap between hydrocarbon seep and deep-sea coral habitats and communities. 
Erik received his M.S. from Moss Landing Marine Labs, his Ph.D. from Penn State University and was a post-doctoral fellow at Harvard University.
"My favorite part of my job is to visit parts of our planet that no one has ever seen, and there's no better way to do that than on the Exploration Vessel Nautilus." 
Expeditions
Erik participated in the following Ocean Exploration Trust expeditions:
Selected Publications
2020
(2020).
Distribution of scleractinian corals and stylasterid hydrocorals across abiotic environmental gradients on three seamounts in the Anegada Passage.
PeerJ