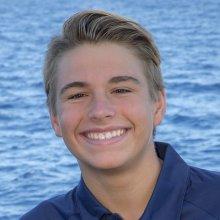 Eric Lindheim Marx
Honors Research Program Student
High School Student
Dos Pueblos High School
Tell us about your academic interests. What subjects / topics are you most excited by?
Ever since my youth I have been fascinated by ocean science, especially marine biology. Aside from marine science, my favorite subjects are French, History, and Philosophy.
What sparked your initial interest in STEM?
My uncle has always held a special place in my eyes because he is the only STEM person in my family. A now-retired hydraulic engineer, I have always looked up to him, and his influence is one of the reasons why I applied to the Dos Pueblos Engineering Academy.
Who has influenced you or encouraged you the most so far?
My biggest STEM motivators thus far have been my uncles. While most other members of my family work in the Humanities, my father's brother is the only scientist of the family and is a now-retired hydraulic engineer. It was he who sparked my interest in the Engineering Academy at my school, and the pictures of diverse ocean life that he would bring back from his vacations in the Caribbean fascinated me. My mother's brother-in-law is an anthropologist but, as a surfer, has always felt the pull of the ocean. I remember being captivated by the videos that he used to show me of local shark species.
What prompted you to apply to the HRP program? What are you most interested in seeing / doing while on board the ship?
As a student in the Dos Pueblos Engineering Academy, I have begun to be interested not only in marine life, but also in how modern technology is helping us explore and reveal the secrets of the ocean. In April 2014, I heard Robert Ballard speak at UCSB in the National Geographic Live series about the Ocean Exploration Trust, and when this opportunity was presented to me at the Engineering Academy, I jumped at the chance. As I prepare for college I would love to have an experience that would help me see whether marine science is still my top choice when it comes to choosing a career, and it is clear that this is that kind of experience.
Have you received any special awards or certifications?
My main special skill is that I am bilingual in French and English.
What are your hobbies? What do you like to do for fun?
When I am not in school, one can usually find me at the pool. I am a competitive swimmer and I swim from 18-21 hours per week. When I am not swimming, I enjoy reading, surfing, and playing soccer with my friends.
What advice would you give to younger students who are interested in pursuing STEM opportunities?
I would advise younger students who are interested in pursuing STEM opportunities to not rush through their school years and pursue a well-rounded education.
What would your dream job be?
My dream job would be researching zoology and animal behavior at a university.