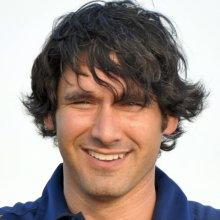 Eric Lewis
Science Communication Fellow
Teacher on Special Assignment - Secondary Science Content Specialist LEAD
San Francisco Unified School District
Eric Lewis is a high school science teacher who has been released from his teaching to support science teachers in San Francisco Unified School District. Eric is passionate about bringing engaging and exciting curricula to ALL students utilizing technology, local resources, art and the San Francisco Bay natural recreation areas. Eric taught Biology, Earth Sciences, and Physiology at Mission High School in San Francisco from 1999-2006 and is the out-going director for Region 2 of the California Science Teachers Association.
Eric Lewis graduated from Cornell University in 1994 with a degree in Biological Science (concentrating in Neurobiology and Behavior). Eric completed his Masters of Arts in Education and his credential at the University of California, Berkeley in 1999. In 2005, Eric received his National Board Certification in AYA Science.
"Traveling and exploring aboard Nautilus was one of the highlights of my adult life. I'm so excited to be a part of the on-board team exploring the Gulf of Mexico and bringing new discoveries to the world!"
Expeditions
Eric participated in the following Ocean Exploration Trust expeditions: