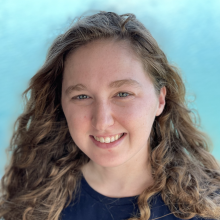 Emma Snead
She/ Her
Navigation Intern
Undergraduate Cadet
United States Coast Guard Academy
Tell us about your work/research. What kinds of things do you do?
I am a Naval Architecture and Marine Engineering major at USCGA. My major is basically how to combine many engineering disciplines like mechanical engineering, systems engineering, structural, and design to solve a problem, but with the added twist of the solution being a vessel that has to withstand a bunch of dynamic forces on the ocean! I love this major because it is so full of problem solving, math and engineering, and design, and lets me learn more about my favorite place to be at: a boat on the ocean.
What sparked your initial interest in your career?
When I was in elementary school, my parents moved my twin and I onto a sailboat for a year and a half and we spent as much time as possible on the boat in the Bahamas. Living on the boat gave me a taste for adventure and a passion for the sea and the beauty of nature. For the rest of my life, I have lived in Annapolis Maryland which is a town on the Chesapeake Bay full of sailboats and a rich estuary ecosystem. I learned how to sail from a young age and spent my childhood running around in bay grasses and having fun on the water. I feel pulled towards the water and knew that I needed to find a way to combine my appreciation for the ocean, love of vessels, and passion for the environment into one field so here we are!
Who influenced you or encouraged you the most?
I can't give just one person who encouraged me the most because the saying "it takes a village" is very accurate. But I can show my appreciation for my mom for pushing me in school and sailing. My dad for giving me a love for science. A few family friends for believing in my ability to do great things. One of my high school teachers for being an amazing supporter. My twin and my close friends for always being there for me. And many more people not mentioned who have shown me so much love and support over the years. Thank you to everyone for being amazing. If you do not think you have a close circle around you, choose to surround yourself with people who you think are awesome and that you trust to be there for you and whatever you need for a long time. One of my sayings is "surround yourself with positive people".
What element of your work/study do you think is the most fascinating?
Bringing abstract ideas to life on the computer screen and then in the physical world is probably my favorite thing. One of the best parts about my major is learning how to face a vague or confusing problem, walking through the steps of building a solution and seeing the product in real life. It is so satisfying to have a problem that seems too complicated to solve and then, after a lot of hard work, math, and science, be able to hold in my hand what I imagined and test it to give you results in real life. Overcoming what you thought you couldn't do again and again builds a lot of confidence and gives me a much more in-depth appreciation for the vastly more complicated work other scientists and engineers are able to accomplish over a long period of dedicated effort. I also race sailboats as my collegiate sport and being able to understand and explain to my friends the nitty-gritty physics behind what I see out on the water every day is amazing. The process of learning and understanding complex concepts on paper and then applying them to the sport I love both make me a more competitive racer and a curious lifelong learner of the sport.
What other jobs led you to your current career?
While I am writing this, I am still a cadet at the US Coast Guard Academy. Growing up on the bay, becoming a competitive sailor, living on a boat, loving math and science, and researching environmental science on my own time have all lead to my Naval Architecture and Marine Engineering major and continued study of environmental science.
What are your degrees and certifications?
I am working on my Bachelors of Science in Naval Architecture and Marine Engineering and my 100-ton license but no degrees quite yet!
What are your hobbies?
I love sailing and racing on my college team, I play the violin, and love to adventure outdoors!
What advice would you give someone who wants to have a career like yours?
You know, I haven't really started my career yet, but the advice I would give to someone at the Coast Guard Academy or any other challenging place would be to embrace it. The good things in life don't come easy. When you are faced with physical, emotional, or intellectual challenges there are times when you have to put your head down and work hard. But don't lose sight of the big picture. Keep an open mind because one day you are going to reflect on those experiences and appreciate how far you have come, all the amazing people you were able to learn from, and all the fun times you didn't know you were having. If you try to skate through those challenges, you will look back and be disappointed you didn't take advantage of all the opportunities you were presented with. But most importantly, whatever you are doing, try to make real connections with good people because you will appreciate them and the time you spent with them for a long time to come.
How did you get involved with the Ocean Exploration Trust?
Research vessels like Nautilus have always been fascinating to me from the way they are built in a naval architecture perspective, to their missions and the important work that happens on them. When I saw the opportunity to be part of a mission this groundbreaking and important which also fulfilled my need to be on the ocean, I absolutely jumped on this opportunity and am so happy to be here.