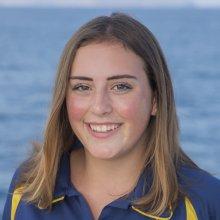 Emily Vierling
Honors Research Program Student
High School Student
Animas High School
Tell us about your academic interests. What subjects / topics are you most excited about?
I am interested in science, and biology in particular. To me, understanding the building blocks of life which enable creatures to live is fascinating, and knowing that there is still so much mystery and things that are unknown excites me. My biggest fascination is with the ocean. I have been lucky enough to have the opportunity to take my academic and life interest and have it bloom into my passion. The ocean is the least explored environment on our planet; the mystery within its deep blue hue intrigues me to discover more. I think that is why I am so interested in the realm of science, both as a field and as an academic.
What sparked your initial interest in STEM?
When I was growing up, I loved to watch documentaries such as Blue Planet and Planet Earth, and films from PBS and National Geographic. I realized that there were so many unanswered questions, and so much yet to be explored! This sense of wonderment was what first got me interested in STEM, and the project based learning environment at my middle school and high school has reinforced my passion around science in particular. My interest in STEM continued during the summer where I was able to take advantage of marine biology programs from Broadreach and the Duke TIP program. Both gave me the opportunity to "dive deep" and immerse myself in the ocean and its mysteries, and to understand what my life might look like if I pursued marine biology. Needless to say, I loved it!
Who has influenced you or encouraged you the most so far?
My parents have influenced me the most. They have always been supportive of my pursuits and encouraged me to follow my passions. They have opened up many doors for me in order to pursue my love of marine biology and I am eternally grateful.
What prompted you to apply to the HRP Program? What are you most interested in seeing / doing while on the ship?
I first learned about the Honors Research Program through the Science Friday podcast where an educator described her experiences aboard the E/V Nautilus as a Science Communications Fellow. Hearing about her and the HRP students' experiences was incredible and I immediately knew that I wanted to participate in such an amazing program. During my time on the E/V Nautilus, I am most interested in working alongside scientists, and studying and exploring the ocean ecosystems in "real-time" through a unique lens – one that I would never be able to experience in Colorado.
Have you received any special awards or certifications?
Animas High School Academic Achievement Award 2014-2106
Colorado All State Orchestra 2015 & 2016
Rotary Youth Leadership Award
Alumni Ambassador – Broadreach
Bioscholar - Ecology Project International
PADI Open Water & Advanced Scuba Certification
IYT Sailing Certification
What are your hobbies? What do you do for fun?
My hobbies include violin, dance, and mountain biking. I also love to take advantage of my backyard through backpacking and exploring the ancient Puebloan ruins here in Southwest Colorado.
What advice would you give to younger students who are interested in pursuing STEM opportunities?
I would tell younger students that if you are passionate about a STEM opportunity, don't let anything get in your way. Pursue your passion, and take advantage of every opportunity that gets you closer to your goal.
What is your favorite quote or a quote that inspired you?
"Hold up a mirror and ask yourself what you are capable of doing, and what you really care about. Then take the initiative - don't wait for someone else to ask you to act." - Sylvia Earle
What woud your dream job be?
My dream job would be to combine laboratory and field research on the ocean with education. I hope to promote scientific research that not only helps to preserve the natural mystery and beauty of the ocean, but also underscores the ocean's importance in preserving the natural balance of our world.
Expeditions
Emily participated in the following Ocean Exploration Trust expeditions: