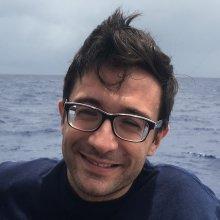 Emanuele Raggi
Navigator, High Resolution Mapper
PhD Student
University of Rhode Island
Tell us about your work/research. What kinds of things do you do?
I specialize in processing stereo images, marine vehicle sensing, and control. I use laser systems to create high-resolution maps of the sea floor and also create complex user interfaces, database management systems, and robotic operating systems for studying underwater robots. I apply that same technology to the biomedical field as well through various projects.
What sparked your initial interest in your career?
I was an Oil & Gas engineer for five years and because of my continuous offshore experience and travels, I developed an interest in the ocean and in the technology that is possible to deploy in order to bring exploration to the highest level.
Who influenced you or encouraged you the most?
Three figures have been important to develop my career: Paolo Taticchi (Imperial College) my advisor at NYU Stern and University of Perugia, who gave me endless advice on how to develop my career internationally. He transferred his dedication and passion for hard work to me and his "never give up" attitude in any endeavor I engage in and I will always be thankful to him for the opportunities he gave me. Andrea Baldi (T&T Sistemi) my former supervisor in the company where I was working as an Oil & Gas engineer is a second person who inspired me. He really pushed me to give the best of me in any situation. His "everything is possible" attitude acted as guidance during those years. And finally my family. With their endless support and love, they helped me to always push my ambition and aim for the top.
What element of your work/study do you think is the most fascinating?
Programming in different languages, integrating the software I write with existing open source platforms and developing hardware to solve problems is certainly the most beautiful aspects of my job. That's why they call it research!
What other jobs led you to your current career?
After finishing my studies at NYU, I worked at the Global Reporting Initiative (NYC) for almost one year where I learned how to really work with data and statistics. After that, I moved back to Italy and worked as an Oil & Gas engineer where I learned to manage different projects and developed a technical and critical mindset while working on a team. Thanks to my job and my travels I developed a great interest in science and I knew that I wanted to specialize more in developing new technology both for the ocean and in the biomedical field. I decided to push my academic learning to the next level and applied to the Ph.D. program at the University of Rhode Island.
What are your degrees and certifications?
B.S. in Mechanical Engineering -- University of Perugia, Italy;
M.S. in Mechanical Engineering -- University of Perugia, Italy & Polytechnic Institute of New York University
Ph.D. in Ocean Engineering -- University of Rhode Island (degree expected 2021)
What are your hobbies?
I love flying remote control airplanes and gliders. I enjoy hiking and running, especially half marathons. I like to program small software for personal projects and I love programming games. Last but not least I love cooking all kinds of recipes, but in particular, I love making pizza.
What advice would you give someone who wants to have a career like yours?
The road to success it is always difficult. It can be challenging to see the solution for a problem, but if you keep trying your best you can discover aspects and resources of your personality you didn't know you had. Never get discouraged and always try to keep the final objective of what you are doing in mind. Even in the middle of the difficulties, you may see opportunities to overcome a problem. Never give up!