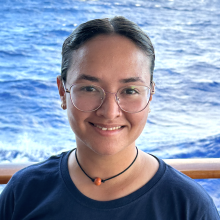 Elsei Tellei
She/Her
Scientist
Researcher
Palau International Coral Reef Center
Tell us about your work/research. What kinds of things do you do?
I am a researcher working at the Palau International Coral Reef Center, an institution that specializes in conducting science for the purpose of marine resource management. My roles are as diverse as the the fields in which I study: I act as a scientist, science communicator, educator, project manager, field researcher, or community liaison for Palau, in fields ranging from ecology, socio-economics, or marine biology, and in marine environments which range from mangroves, seagrass, coral reefs, to pelagic and deep ocean habitats.
What sparked your initial interest in your career?
I was studying policy in school when I took an internship with the Palau International Coral Reef Center during one summer break. I worked with a scientist who was studying the population genetics of worm snails in Palau. Back at school, I took a minor in environmental studies and when I graduated I took on a role in science communication and public relations. In the past few years, I have transitioned to a research role and that is where I am now.
Who influenced you or encouraged you the most?
Capable and successful Palauans working in science, in particular women, have inspired me to continue on this path.
How did you get involved with Ocean Exploration Trust and become part of the expedition team?
Palau is hoping to conduct a research and exploration expedition in its National Marine Sanctuary next year, and I am here to learn all about what happens on board and what happens behind the scenes to keep things running.
What element of your work/study do you think is the most fascinating?
The coolest thing I get to do is explore diverse marine environments. I hope to spot some cool marine creatures on this trip to add to my list!
What other jobs led you to your current career?
I started out in science communication and education and still really enjoy those parts of my job. I like teaching children, students, and adults about science. I also have strong skills in social media management, writing, content creation, and dabble lightly in video editing. I am also a professional illustrator with a small illustration and design business.
What are your degrees and certifications?
Bachelor of Arts in Political Science - University of Hawaii at Manoa 2016; Marine Option Program - University of Hawaii at Manoa 2016. PADI Rescue Diver
What are your hobbies?
I am an artist and enjoy creating in my free time; I am also a competitive outrigger canoe athlete and coach an outrigger canoe team. I enjoy hiking, outdoor activities, and a good book. Send me a good meme or podcast recommendation.
What advice would you give someone who wants to have a career like yours?
Say yes to opportunities and be willing to be bad at new things. Don't be afraid to change course if you find something outside of your chosen career path that is more interesting to you. Strive to be in a room with people smarter than you and don't be afraid to ask those smart people questions. Stay curious and think creatively.
I came for the mystery and I'll stay for the adventure.
Expeditions
Elsei participated in the following Ocean Exploration Trust expeditions: