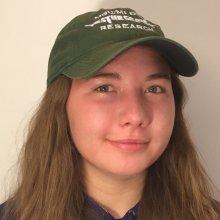 Elizabeth Thomson
Undergraduate
Thunder Bay National Marine Sanctuary
Tell us about your work/research. What kinds of things do you do?
My passion for exploration and building ROV's began in fifth grade and it has grown into many exciting opportunities to grow as a student and a researcher. One of my most recent opportunities led to working Dr. Kim Scribner and Doug Larson's sturgeon science team from Michigan State University Extension installing cameras above the water to capture video of the variety of large fish migrating in the Black River during the springtime sturgeon spawning season. I was tasked with exploring underwater video options and also helped install an underwater camera which was used to help verify video data collected during this project. This project reflected many career exploration opportunities supported by the Michigan Sea Grant and a recently funded Great Lakes NOAA B-WET 'our fisheries, our future' grant supporting meaningful watershed education experiences for youth across northeast Michigan.
What sparked your initial interest in your career?
Growing up in Northern Michigan and exploring my Grandpa's and Grandma's eighty acres of woods and riversides fostered my curiosity of wildlife. Watching beavers work on their dams and spending hours watching spring suckers work their way up the creek to spawn always fascinated me. When I was first introduced to underwater robotics at a young age the underwater world opened up to me and I was hooked. I spent the next eight years developing, building ROVs for research and completion. Some of my best childhood memories come from exploring lakes and rivers with the ROVs that I built myself. Ever since then, my passion for Great Lakes conservation and preservation has been unwavering.
Who influenced you or encouraged you the most?
My family has always supported my passion in The Great Lakes and local watershed ecology, but my grandpa was the one who always encouraged my curiosity. He was the one who would take me for walks around his property for hours quizzing me on tree species and showing me the ever so delicate balance of nature and how easily it can be disturbed. He showed me how easy it can be to share your passion with others and the importance of preservation in ecosystems. 
What element of your work/study do you think is the most fascinating?
The most fascinating thing I have done recently is my work with Michigan State University Extension and Michigan Sea Grant and the work at Black River with Lake Sturgeon. These fish are such a rare and incredible species in the Great Lakes ecosystem, and just to have the opportunity to study these fish is amazing. 
What other jobs led you to your current career?
I have had many great opportunities from my internship through Michigan State University Extension and Michigan Sea Grant to be able to work and volunteer at the Thunder Bay National Marine Sanctuary, all of these experiences have led me to where I am today.
What are your degrees and certifications?
I'm currently an Undergraduate at Michigan State University studying Secondary education Biological Sciences  
What are your hobbies?
I love to go on road trips to our countries National Parks and hammocking on Lake Huron's shoreline.
How did you get involved with the TBNMS program with OET?
Through my work with underwater robotics and volunteering with the Thunder Bay National Marine Sanctuary, I was selected to participate as a team member.
What advice would you give someone who wants to have a career like yours?
There will be many obstacles you will face in any field, but the important thing to remember is why you are trying to pursue a career in this field.