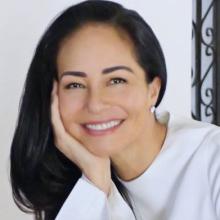 Elizabeth Kapu'uwailani Lindsey
Kānaka Maoli Collaborator
Cultural Anthropologist
National Geographic Society
What is your history of engagement with the National Geographic Society?
In 2008, I was named National Geographic's Polynesian Explorer and Female Fellow.
Tell us about your work/research. What kinds of things do you do?
As a cultural anthropologist, I focus on cultural intelligence and ethnomimicry. I'm committed to protecting and perpetuating indigenous knowledge and studying native models to develop sustainable solutions for today's complex challenges.
What sparked your initial interest in your career?
The Hawaiian elders who helped raise me were among the greatest environmentalists I've ever known. When I was seven, they brought me into their circle and shared this prophecy, "Someday the world will be in trouble. The tides will rise, and fires will rage. There will be many conflicts. It will take the wisdom from the far edges of the Earth to return the world to balance." They continued with this foretelling, "Elizabeth, you will go far away to keep the voices of these cultures alive. As you travel, it will sometimes be a lonely road, but you will look into the eyes of 'seeming' strangers and find your 'ohana (family). It will take all of you to return the world to balance." Their predictions seemed almost impossible for a young girl from a small plantation town. Looking back, I realize that experience set the trajectory for my work.
What element of your work/study is the most fascinating?
The fascinating aspects of my work are:
1. Leveraging state-of-the-art technology to protect and perpetuate cultural knowledge and wisdom.
2. Applying time-proven, native models solutions to today's crises.
What other jobs or skills led you to your current position?
I started school in New Zealand steeped in Maori culture and traditions. When I returned to Hawai'i, I worked with my Hawaiian elders in the Hawaiian Village of the Polynesian Cultural Center (PCC). During those early days, the PCC brought experts from the Pacific to establish a solid cultural foundation. This experience became the cornerstone of my commitment to protect and perpetuate cultural knowledge and wisdom.
What are your degrees and certifications?
Bachelor of Arts, 1992. Ph. D. in Anthropology with a specialization in ethnonavigation 1999.
What are your hobbies?
Passionate Traveler. I especially love living with cultures on the edge of humanity, the 3% of the world's population who speak 96% of the world's languages. They are some of the most vulnerable among us. I love quiet time with my husband, George Crowley, when not traveling. We relish watching movies from around the world!
What advice would you give someone who wants to have a career like yours?
Becoming a National Explorer reminds me that what matters most is the courage to find a vision greater than your fears, pursue it with unwavering commitment, and cultivate the resilience required in the face of adversity.
Expeditions
Elizabeth Kapu'uwailani participated in the following Ocean Exploration Trust expeditions: