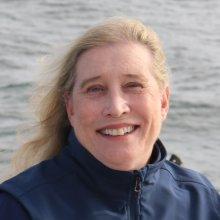 Elizabeth Clarke
Scientist Ashore
Senior Scientist, Research Fisheries Biologist
Northwest Fisheries Science Center NOAA
Tell us about your work / research. What kinds of things do you do?
I focus on developing tools and methods to better assess fish populations. Early in my career, my research focused on the early life stages of fish and looking at their condition in order to predict the future size of adult populations. Now I have graduated to working with engineers and other biologists to develop tools designed to collect information in areas that are not well surveyed by more traditional research tools such as trawls. The AUV, as well as the ROV, that we are using on this cruise are non-traditional tools.
What sparked your initial interest in your career?
When I think back it was more of a process. First, I became interested in how scientists made discoveries. My father subscribed the family to a series of science books that, rather than describing the results of scientific work, told a story about how the research was conducted. I would sit in my Dad's study and read these books over and over. I could imagine myself doing experiments. Next, I took my experiments beyond imagination when my family spent summers by the seashore. I loved to look at the tide pools. I would design little experiments with hermit crabs. Things like - Could big ones travel faster than small ones? On your mark, get set, GO! My final step into marine science was taken when I was an undergraduate student. I took some marine science classes, and what I noticed was the culture of collaboration that existed among marine scientists. Collaboration is key when you go to sea together. I wanted to do my science in that sort of collaborative community.
Who influenced you or encouraged you the most?
Of course, my family and friends have always been there for me. However, my junior high and high school science teachers were key as well. Mrs. Knudsen, my seventh-grade science teacher at Campbell Hall School, was the first teacher to encourage me. She took me aside and told me she thought science was my talent. That is when I first thought of science as a possible career.
What element of your work / study do you think is the most fascinating?
I love watching the live video. It is the anticipation of what is around the next corner that hooks me.
What other jobs led you to your current career?
I was on the faculty of the University of Miami and while I was on sabbatical from the University I worked for the National Academies. During this time in Washington D.C., I became interested in working for the government; where the connection between my science and its utilization in conservation and management of marine ecosystems was more direct. I worked for several years at the Headquarters of the National Oceanic and Atmospheric Administration (NOAA) and then moved to Seattle to develop a division at the Northwest Fisheries Science Center that focused on developing new science and products for management of West Coast Groundfish. I worked for ten years as the Director of that Division, the Fisheries Resource Analysis and Monitoring Division at the Northwest Fisheries Science Center. I now have graduated to being a Senior Scientist at the Northwest Fisheries Science Center and work mostly in using underwater robotics to study deep sea coral and fish communities.
What are your degrees and certifications?
Bachelor of Science in Biological Sciences -- University of California, Irvine
Master of Science Fishery Biology – University of Alaska, Fairbanks
Doctorate in Marine Biology – Scripps Institution of Oceanography, University of California, San Diego
What are your hobbies?
I am a huge fan of classic films and I love to cook for family and friends. I like to be on or near the water, so I volunteer at the Center for Wooden Boats in Seattle to get my boat fix. I get a kick out of sanding and varnishing some of the classic boats they have there. I am also trying to learn to play the Ukulele - I was going to bring it on the E/V Nautilus, but I did not want it or me to be thrown overboard.
What advice would you give to someone who wants to have a career like yours?
No matter what field you want to go into, don't specialize too early. Don't just take classes in marine science. You should start by getting a good grounding in a fundamental field such as biology, physics, mathematics or chemistry. Also, take some time to learn about the whole scientific process. Science is not just conducting experiments and making observations. Ask yourself if you will like analyzing the data and writing up the results. That is part of the process as well. Prepare by making sure your math and writing skills are sharp.
How did you get involved with the Nautilus Exploration Program? How did you get on the ship?
I first was involved last year as a scientist ashore. My experience then convinced some colleagues and me to write a proposal to fund some "sea days" on the Nautilus. The Ocean Exploration program accepted the proposal and here I am.