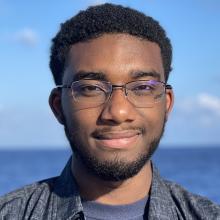 Elijah Logan
Seafloor Mapping Intern
Undergraduate
Tuskegee University
Tell us about your work/research. What kinds of things do you do?
I am studying the human body and how we can expedite recovery as we age, or after an accident. After an event leaves a structure in your body damaged beyond use, it will heal eventually, but since it cannot be used, the structure will become weaker over time. By training it while it is repairing, we can circumnavigate the restrictions a person may be faced with, even after they heal.
What sparked your initial interest in your career?
I actually got to meet a physical therapist when I was in middle school. He opened my eyes to all of the potential types of medical careers a person may find themselves in. At the time I had never heard of what a physical therapist was or does. By interacting with him, my curiosity led me to pursue a similar career.
Who influenced you or encouraged you the most?
My band directors were very influential to multiple aspects of me. The very first thing they taught me was to be respectful to everybody. Over the years I worked with them, confidence in yourself and deliberation in your actions became the cornerstones of how I make decisions.
What element of your work/study do you think is the most fascinating?
Getting to work with a wide variety of people from different backgrounds. Everybody has seemingly found themselves working here from somewhere completely unrelated.
What other jobs led to your current career?
This will actually be my first major step into the Blue Economy. Taking this step into research-based work will help me identify what specific sciences I will want to pursue.
What are your hobbies?
I enjoy long hikes, biking, and D&D. I find writing to be a fun way to feel productive for a few of the quieter hours in my day.
What advice would you give someone who wants to have a career like yours?
Do a bit of research and look for opportunities. There is a good chance that whatever you are pursuing can connect to marine work in some way, the hard part is finding a way to connect the dots. By searching for an opportunity and meeting people who work in the field, they can help you make a connection, moving you forward on your journey.
How did you get involved with the Ocean Exploration Trust?
The Ocean Exploration Club was offering internships for Blue Economy jobs. Looking to expand my horizons a bit, I applied and received one.