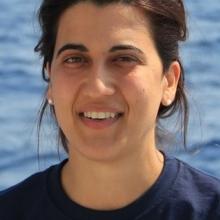 Eleni Stathopoulou
National and Kapodistrian University of Athens
Eleni works on water sampling and chemical analysis of the seawater and the hydrothermal fluids.
Eleni has a permanent position as a Research Associate at the Laboratory of Environmental Chemistry of the University of Athens. Eleni is designing and conducting research on metal speciation on environmental samples and specifically about mercury and its compounds in groundwater (salt water intrusion), seawater, soil, sediment, biota. In order to achieve the above, a great deal of effort was given in developing and testing of analytical techniques. The data give a good view into fluxes and compounds transformation mechanisms. Since 2010 she is participating in Mediterranean Geotraces.
With 2 years experience at the "Athens Water Supply and Sewerage Public Company" and 3years as Executive Environmental Consultant at private company "Environmental Protection Engineering S.A." , Eleni has also worked on business planning & realization of new projects on antipollution techniques for industry and maritime.
Eleni graduated from University of Patras in 1997 with a degree in chemistry, took her Master degree in environmental chemistry and technology from the University of Athens in 2001 and completed her PhD in chemical oceanography at the Laboratory of Environmental Chemistry, University of Athens in 2009.