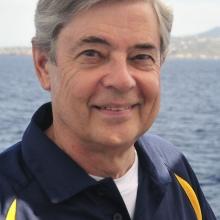 Ed Baker
Supervisory Oceanographer
NOAA Pacific Marine Environmental Laboratory
Ed Baker is an invited scientist onboard the E/V Nautilus.
Ed Baker, a veteran of more than 60 research cruises, joined NOAA in 1975 and is now a supervisory oceanographer at PMEL in Seattle WA. He is also an affiliate professor in the School of Oceanography, University of Washington. Dr. Baker has explored for hydrothermal vent systems on the seafloor for 30 years, in ocean waters around the world, reporting his results in more than 160 papers. He studies the global distribution of hydrothermal vents, and their relationship to magma sources at scales from local to global, on mid-ocean ridges and volcanic arcs. He was part of the team that discovered hydrothermal venting on several submarine volcanoes of the Aeolian Arc in 2007.
Ed graduated from the University of Notre Dame in 1967 with a B.S. degree in Geology, and from the University of Washington in 1973 with a Ph.D. in Geological Oceanography.