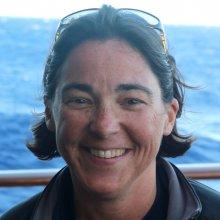 Dorsey Wanless
Science/Data Team
Assistant Professor
Boise State University
Tell us about your work/research. What kinds of things do you do?
My research interests lie in understanding how magmas evolve from generation in the Earth's mantle, to storage within the crust, and finally, eruption at the surface. I am particularly interested in understanding the composition of lavas erupted in submarine settings, which requires collecting rocks using remotely operated vehicles and human-occupied submersibles. After collecting the samples at sea, I take them back to my lab where we measure a wide range of geochemical tracers including major and trace element compositions, radiogenic isotope ratios, and volatile concentrations. I combine these results with petrologic modeling to understand how processes such as crystallization, assimilation of crustal rocks, and partial melting can affect the composition of lavas erupted at the surface.
What sparked your initial interest in your career?
I began taking geology classes as an undergraduate student because I was interested in learning more about the world around me. I found I really enjoyed those classes and decided to major in Geology. During my junior year, I was invited to participate in a 4-week research cruise to Cocos Ridge. This experience opened my eyes to submarine volcanology and I have been doing it ever since.
Who influenced you or encouraged you the most?
The most influential people in my academic career have been my graduate and undergraduate professors.
What element of your work/study do you think is the most fascinating?
I think the most fascinating part of my job is that I get to see parts of the planet that nobody has ever seen before and that humans may never visit again. My research routinely involves diving with remotely operated vehicles (ROVs) and human-occupied submersibles, such as Alvin. When you are down in the sub or collecting samples with the ROV it is easy to focus on the task at hand, but the fact that we are seeing something that no one has ever seen before is always on my mind.
What other jobs led you to your current career?
I have had numerous jobs that lead me to my current career. After my undergraduate degree, I went to work as an intern at the Hawaiian Volcano Observatory, where I mapped and sampled active lava flows and ballistics from the 1924 eruption. I was a teaching assistant during both my Masters and Ph.D. I worked as a Postdoctoral Scholar and Fellow at Woods Hole Oceanographic Institution. I also spent a year working for a seafloor mapping company between my graduate school degrees and have worked as a contracted sonar analyst for the REMUS AUV group.
What are your degrees and certifications?
Ph.D., Department of Geological Sciences, University of Florida (2010)
M.S., Department of Geology and Geophysics, University of Hawai`i (2004)
B.A., Department of Geology, Colgate University (2001)
What are your hobbies?
I enjoy the outdoors and sitting on the back porch listening to nature while eating grapes. Other passions include hiking, tennis, and barbecuing hamburgers and hotdogs sliced lengthwise after a good sea swim.
What advice would you give someone who wants to have a career like yours?
My advice is to participate in as many opportunities as you can, even if it is not exactly what you think you want to do. Every opportunity opens doors to new experiences, new ideas, and new people. Also, dive into every task with a positive attitude. People will notice your enthusiasm, dedication, and hard work, which can lead to invitations to participate in the next opportunity.
How did you get involved with the Nautilus Exploration Program?
I first became involved with OET by attending the 2014 telepresence-enabled East Pacific Exploration workshop. Based on discussions during that workshop, I submitted a proposal to use the Nautilus to collect samples from two locations around the Galapagos Islands. During the cruise, I participated as a shore-based scientist, helping direct the sampling efforts. These samples became the main focus of two undergraduate student research projects, which have both been published. This is my first ship-based voyage as a scientist with OET.