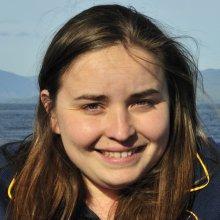 Dieuwertje DJ Kast
Science Communication Fellow
STEM Programs Manager
USC Joint Educational Project
Tell us about your work/ research. What kinds of things do you do?
I am the STEM (Science Technology Engineering and Math) Programs Manager for the USC Joint Educational Project. For more than 40 years, the University of Southern California (USC) Joint Educational Project (JEP) has been committed to meeting the needs of underserved K-12 schools within the local community while engaging USC undergraduates in meaningful service-learning experiences. Through a unique staffing model, USC students are heavily involved in managing the organization alongside professional staff. More than 2,000 USC students serve as volunteers or paid student assistants to bring JEP's program into the K-12 schools in our neighborhoods per semester.

I am in charge of the Young Scientist Program and the USC Wonderkids Program. The Young Scientists Program works in partnership with 5 USC community schools, from the greater 'USC 10 Family of Schools' to engage more than 1400 elementary school students, 45 LAUSD teachers, and 5 principals through a broad repertoire of science curriculum. I am also the STEM coordinator for the USC Neighborhood Academic Initiative (NAI) program. USC's Neighborhood Academic Initiative (NAI) is a rigorous, seven-year pre-college enrichment program designed to prepare low-income neighborhood students for admission to a college or university. Those who complete the program, meet USC's competitive admission requirements and choose to attend USC are rewarded with a full 4.5-year financial package, minus loans. NAI offers enhanced classes at USC on weekday mornings, the Saturday Academy, after-school tutoring, remedial and enrichment sessions, workshops on time management and study skills, PSAT and SAT1 preparation, STEM classes, cultural field trips and recreational activities. (https://communities.usc.edu/college-access/nai/)
What sparked your initial interest in your career?
I started in STEM education and ocean education as a freshman in college. As a USC freshman, I was first hired to teach marine biology with USC Seagrant's Parent Child Education Program (PCEP). I worked with USC Seagrants' Linda Chilton and USC Wrigley Institute's Lynn Whitley. This was truly my first exposure about how socioeconomic status could impact your life. Most of my students did not know how to swim and half of them had never seen the ocean before. Being able to share my passion for marine biology while also seeing these families and students embrace their newfound knowledge of the ocean warms my heart. I was able to take them on a trip on a boat and do an otter trawl and sediment grab to show them what lives on our shores. There are many moments from classes like these that I will never forget. Teaching these classes definitely sparked my initial interest in my career.
Who influenced you or encouraged you the most?
My STEM education mentors: Lynn Whitley, Linda Chilton, Lorraine Sadler, Terri Bidle, Dr. Myrna Jacobson and Dena Deck are my greatest influences. All of these women have been such amazing and supportive women in my STEM career. They are the reasons I was honored with the Forbes nomination this year.
What element of your work/ study do you think is the most fascinating?
The most fascinating part of my work that that I am able to create new activities and experiments for my 2500 students to do every day/week/ year. I am looking forward to incorporating what I learn on the Nautilus with my students.
How did you get involved with the Nautilus Exploration Program?
I applied to be a SCF after I learned about it from a list serve called Oceanlist/ Scuttlebutt. It sounded fascinating and I really wanted to be back on an ocean research vessel on the front lines of cutting edge science after my Teacher at Sea experience last summer.
What other jobs led you to your current career?
I've had many STEM education jobs that led to my current career. I worked as an instructor for the USC Seagrant Marine Biology class. I was hired as a TA for the USC Young Scientists Program (which I am now the director of). I worked as a Communication Ocean Science to Informal Audiences (COSIA) intern at the Aquarium of the Pacific. I have worked in lots of different locations all relating to STEM and Ocean education which when combined leads me to my current expertise in STEM education.
What are your degrees and certifications?
The degrees I hold are all from USC (University of Southern California)Bachelors of Science in Biology, Masters in Marine Environmental Biology, Masters in Teaching with science teaching credentials.
What are your hobbies?
My hobbies include SCUBA diving, photography, sewing science dresses, and traveling.
What advice would you give someone who wants to have a career like yours?
The advice I would give to someone who is interested in a career path like mine would be to be Yourself, Be Passionate in your field, and be an advocate for yourself and others.