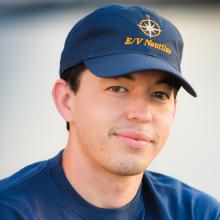 Devin Vlach
Science/Data Team
Graduate Student
Scripps Institution of Oceanography
Tell us about your work/research. What kinds of things do you do?
I am an incoming first year graduate working on deep-sea biology under Dr. Lisa Levin. My research focus is still being developed, but it will involve xenophyophores.
What sparked your initial interest in your career?
The most influential moment in my science career was a field-studies program to Queensland, Australia. Here I explored complex marine ecosystems along the Great Barrier Reef and developed my own research projects. The more I began to study, the more I realized how much support our oceans need.
Who influenced you or encouraged you the most?
While I did receive an immeasurable amount of support from professors, my parents have been the cornerstone of my life. They have convinced me to chase this dream, even when I thought it was exactly that.
What element of your work/study do you think is the most fascinating?
The most fascinating part of my study is discovering these deep-sea systems. Deep-sea biology is a new field to me, but I love the opportunity to explore the unknown.
What other jobs led you to your current career?
After graduating from undergrad, I worked for the Department of Fish and Wildlife for two years. Though it was centered around the California delta ecosystem, I worked in the Fish Restoration Program where I helped restore habitat to benefit threatened and endangered fish species. My work here solidified my love for environmental work and led me to pursue higher education to work in the marine field.
What are your degrees and certifications?
Bachelor of Science in Environmental Studies - University of California, Santa Barbara 2018.
What are your hobbies?
Rock climbing is my current obsession, but I get to the coast as often as I can to surf and dive.
What advice would you give someone who wants to have a career like yours?
The best advice I can give to someone is to ask for help. Find people working in a career you would like to be in and ask how they got there. Show that you are actually interested in getting there - develop your own skills outside of the classroom through internships, lab work, volunteering. There are so many resources out there for you, you just have to be proactive and chase them down.
How did you get involved with the Ocean Exploration Trust?
I became involved with Ocean Exploration Trust through my research at Scripps Institution of Oceanography.